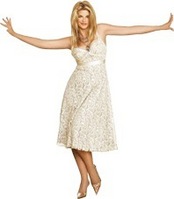 Having my Chubby Buddy Jim has made all the difference in the world. We lean on each other (and try not to knock each other over. It's getting easier!)
Los Angeles, CA (PRWEB) May 9, 2010
After giving fans unprecedented access to her life with the docuseries Kirstie Alley's Big Life on A & E, Kirstie is going to take it to the next level and will be live via video at OrganicLiaison.com on Sunday, May 9th at 3pm PT and Monday the 10th at 10am/5pm PT to talk about the final episode of this season and how she and her chubby buddy Jim have lost weight on Organic Liaison.
One of Kirstie and Jim's secrets to weight loss has been having a Chubby Buddy, someone to keep each other on track on the weight loss journey. "Having my Chubby Buddy Jim has made all the difference in the world. We lean on each other (and try not to knock each other over. It's getting easier!)" said Kirstie.
To encourage others to join up with a Chubby Buddy Kirstie is going to announce the Organic Liaison "Chubby Buddys" contest beginning soon, which will run until the end of the year – the grand prize "Chubby Buddys" will each win a car. The second place team will each win a year's supply of "Rescue Me" Kits and an iPad and the third place team will each win an iPad. As an added bonus, the "Chubby Buddys" winners will be flown to LA to receive their gifts directly from Kirstie at an Organic Liaison party in January. In addition to the "Chubby Buddys" contest, Kirstie will also be giving an iPad to a lucky Organic Liaison member on Monday. Details on how to take part in the contests will be announced on OrganicLiaison.com .
Anyone can view the Kirstie Alley live video stream at OrganicLiaison.com, free registration required. Asking questions by telephone is limited to members of Organic Liaision.
Press Contact:
Jason Weinberg/Donovan Daughtry
donatella(at)untitledent(dot)com
310-601-2101
# # #