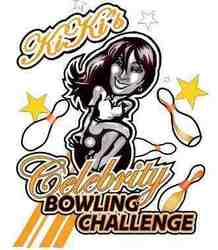 "As we approach the 100th year of discovery, we are extremely excited to host our annual fundraiser during Sickle Cell Awareness Month which brings awareness to the disease and dispels some of the myths that come along with the lack of knowledge of this h
Los Angeles, CA (PRWEB) September 14, 2010
What better way to contribute to an important cause than to unite numerous celebrities for a night of one of America's favorite pastimes! On Friday September 17th, leading talents will demonstrate their bowling skills at KiKi Shepard's K.I.S. Foundation 7th Annual Celebrity Bowling Challenge in order to help increase knowledge of the ever-growing Sickle-cell disease. Actors, comedians, musicians, athletes, and more will roll-a-strike to raise awareness of the disease, and to benefit the programs of The K.I.S. Foundation, Inc. and the Dorothy H. Shepard Scholarship Fund. The event will take place at PINZ Entertainment Center 12655 Ventura Blvd., Studio City, CA 91604 at 8:00 p.m. Guests will participate in a lively 2-game bowling tournament including a celebrity bowl-off. Event highlights include Red Carpet, silent auction, on-site bone marrow registration, raffles and after-party.
The mission of KiKi's "Celebrity Bowling Challenge" is to increase knowledge about Sickle Cell Disease -- an inherited, non-contagious blood disease that can be crippling, painful, and life threatening. The CBC stresses the need to educate the public about this fatal disease, and to stimulate continued dialogue about how it is spread, its debilitating effects, ways of prevention, and the need to get tested now.
Discovered in the United States over 100 years ago, sickle-cell disease (SCD) statistics are staggering. In the US, 1 in 2,500 newborn babies has the disease and approximately 54,000 babies are born each year with sickle-cell trait. Primarily an African-American disease, there are approximately 80,000 Americans with sickle-cell disease and 3.5 million with sickle-cell trait and related disorders. The disease has now crossed into all races. While there is no general applicable cure for SCD, several promising developments have occurred to improve the quality of life and survival of SCD patients.
"As we approach the 100th year of discovery, we are extremely excited to host our annual fundraiser during Sickle Cell Awareness Month which brings awareness to the disease and dispels some of the myths that come along with the lack of knowledge of this horrible disease," says K.I.S. Founder and actress KiKi Shepard.
Bowlers will be able to participate on various levels: Teams $600 (includes 4 bowlers plus a celebrity); Individual bowlers $150; Non-bowlers $50. All proceeds are tax-deductible. Sponsorship opportunities and tickets are still available.
Confirmed celebrities lending their support and participating in the charitable event include: Quinton Aaron, Brian White, James Pickens Jr., Wayne Brady, LisaRaye McCoy, Glynn Turman, Dawnn Lewis, Chandra Wilson, Vanessa Bell Calloway, Loretta Devine, Jackee', Theresa Randle, Bill Bellamy, Obba Babatunde, Tavis Smiley, Art Evans, Salli Richardson-Whitfield, Dondre' Whitfield, Jenifer Lewis, Chico Benymon, Rocky Carroll, Gina Ravera,, Thom Barry, Tracie Thoms, Omar Gooding and a celebrity DJ spinning live throughout the tournament and after-party.
Sponsored by: Herbalife, Pickens/Wilson, Behind the Bench - The NBA Wives Association, Mercedes-Benz of Beverly Hills, American Airlines and Dana da Designated Hata.
Media/Talent RSVP to : Lisa Humphrey- Premier Concepts 310.605.5472 or
email: premierconceptspr(at)gmail(dot)com
For more information visit: http://www.thekisfoundation.org or call 310.605.5472
About KiKi Shepard
KiKi Shepard hails from Tyler, Texas....the "Rose Capital of the World", is a graduate of Howard University, and a proud member of Delta Sigma Theta Sorority. She is a versatile performer who loves entertaining, whether on film, television, or the stage. Best known as the "Queen of Fashion", for 15 years, millions of viewers tuned in weekly to "see what she will wear", as she showed off the season's latest designs in haute-couture as the smashing co-host of the original "It's Showtime at the Apollo"- TV's hottest late-nite variety show.
About the K.I.S. Foundation, Inc.
The K.I.S. Foundation, Inc., is a 501(c)(3) non-profit organization whose mission is to inform and educate the public and raise awareness about Sickle Cell Disease through community outreach programs and educational scholarships. We also financially support the efforts of research institutions to find a universal cure. The mission of KiKi's "Celebrity Bowling Challenge" is to raise awareness about Sickle Cell Disease - an inherited, non-contagious blood disease that can be crippling, painful and life threatening. Visit http://www.thekisfoundation.org
###