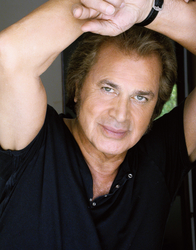 He incorporates so much more than music in his stage shows, and his performances also highlight his flair for the dramatic as well as his finely honed comedy chops
Los Angeles, CA (PRWEB) March 22, 2010
Kismet Talent Agency is pleased to announce that it has signed world famous heartthrob Engelbert Humperdinck for representation in virtually all areas, including motion pictures, television, and commercial endorsements.
Legendary singer Engelbert Humperdinck, known worldwide as the King of Romance, is a two-time Grammy nominee with multiple platinum and gold records to his credit, and has sold over 150 million units over the course of his 44 year career. He has a global following which includes 250 fan clubs and millions of devotees of all ages, and is presently on his "Legacy of Love" tour which takes him to venues, arenas, and casinos throughout the world.
"Engelbert is an amazingly talented and versatile artist," stated Vicki Roberts, co-founder of Kismet Talent Agency. "He incorporates so much more than music in his stage shows, and his performances also highlight his flair for the dramatic as well as his finely honed comedy chops," she said. "His timing is impeccable, and he is every bit the debonair and engaging icon that propelled him to the top of his craft more than four decades ago."
Kismet Talent Agency co-founder and partner Arthur Andelson agrees. "His flexibility, his adaptability, his credibility, and his ability to attract fans worldwide from all demographic groups, and his enduring spirit, all attest to his continued marketability in the often volatile and fleeting fields of film, television, and commercial endorsements," stated Andelson, who added, "He's hot, he's current, and he has an amazing ability to engage the entire demographic spectrum."
Kismet's two partners bring unique talents and skills to their partnership. Vicki Roberts, also a client of the agency, is an entertainment industry veteran. As an on-air legal commentator, she draws upon her experience as a former Judge Pro Tem of the Los Angeles Municipal Court, having presided over thousands of trials, as well as her twenty-five year career as a seasoned civil, criminal, and appellate litigator. Behind the scenes, she is a highly skilled and respected entertainment and talent representative. Arthur Andelson, who is also an artist specializing in installation art and sculpture, previously was a top insurance agent and district manager for a major insurance carrier. He was also a talent manager and publicist in the entertainment industry.
For inquiries and endorsement opportunities, please contact Kismet Talent Agency. For more info about Kismet Talent Agency, please visit its website, Kismet Talent Agency.
###