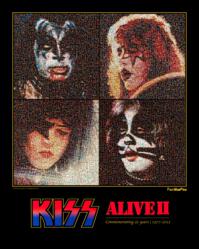 In honor of this big anniversary, we're giving fans the chance to see these photos in a new way—featuring them in a supporting role. - KISS co-founder and front man Paul Stanley
Northfield, OH (PRWEB) April 03, 2012
For 35 years KISS fans have reveled in the sounds and images of KISS Alive II. To celebrate the anniversary of this masterful live album, Fan Mosaics and KISS are inviting fans to be part of some of the most recognizable rock images of all time.
"Every KISS fan knows and loves these images of the Demon, the Starchild, the Spaceman, and the Catman," says KISS co-founder and front man Paul Stanley. "In honor of this big anniversary, we're giving fans the chance to see these photos in a new way—featuring them in a supporting role."
Fan Mosaics has combined the larger-than-life images from the KISS Alive II cover into a single picture that will be reproduced as an official collector's item print.
"It's more than just an amazing print," says Rob Hixenbaugh, Fan Mosaics' director of fan & brand development. "It's a mosaic that uses fan-submitted photos as its building blocks. The fans' images will actually make up the big picture, letting them get inside a major part of KISStory."
The 24-inch by 30-inch prints make great gifts or unique collectibles for everyone who's ever dreamed of getting up close and personal with the band. Fans can unleash their inner rock star and upload their photo for inclusion in the officially licensed KISS Alive II Fan Mosaic at http://www.fanmosaics.com/kiss.
About Fan Mosaics
Northfield, Ohio-based Fan Mosaics, LLC, is the bridge that connects fans and stars. The company's officially licensed celebrity photo mosaics—made up of fan-submitted images—are a unique and lasting outlet for fans' enthusiasm and loyalty. Entertainers in all industries choose Fan Mosaics to thank fans for their dedication, and charities partner with Fan Mosaics to raise funds for their worthwhile causes. Visit http://www.fanmosaics.com to view completed and current projects and to learn more about the Fan Mosaics creation process.
About KISS
KISS, the legendary American rock band was founded in 1972. Four decades later KISS remains one of the most influential bands in the history of Rock and Roll. Their achievements include the release of approximately 44 albums, sales of over 100 million albums, sold out concerts tours around the world and the incredible support of over 6 million Face Book fans worldwide. KISS has performed at the Super Bowl, 2002 Winter Olympics, 2009 Finale of American Idol, 2005 Rockin' The Corps Concert. In 2009, KISS was nominated for induction into the Rock & Roll Hall of Fame. KISS is currently recording their 2012 Album "Monster".