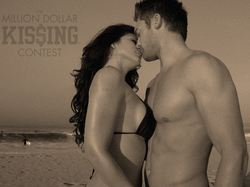 Giving away a million dollars with 'The Million Dollar Kissing Contest' is our way to encourage people to join our mission. We are looking for motivated and creative people to help us spread love around the world with kissing videos
Los Angeles, CA (PRWEB) February 13, 2008
What could be sweeter than sharing some kisses with a loved one? How about sharing One Million Dollars? In honor of Valentine's Day, KISSING.TV has officially launched the "The Million Dollar Kissing Contest" at http://www.TheMillionDollarKissingContest.com.
KISSING.TV is a social website designed for web-goers to meet new people, celebrate romance and bring originality to the age-old "Art of Kissing" by sharing kissing videos and photos online. Participants enter the contest by submitting videos that have anything to do with kissing. The person (or couple) that has the most popular video by the end of the contest will win $1,000,000. Advertising and sponsorships on the site generate the prize money. There are rules and regulations though – for example, all kissing should be kept above the belt.
Entering is as easy as one, two three.

Step one: Create an original video that has anything to do with kissing
Step two: Follow the guidelines on KISSING.TV.
Step three: Upload the video to KISSING.TV and YouTube.com and the video with the most views wins one million dollars.
One of the first contest entrants, Romeo E. Barcena, has already generated well over 100,000 views on YouTube with his entry video:
http://youtube.com/watch?v=t-zx7JUaV2Q
"Giving away a million dollars with 'The Million Dollar Kissing Contest' is our way to encourage people to join our mission. We are looking for motivated and creative people to help us spread love around the world with kissing videos," says Ka'ohele Carlos, CEO of KISSING.TV.
About KISSING.TV
KISSING.TV is a leading online community and e-commerce website dedicated to the act of kissing. CEO, Ka'ohele Carlos, started selling kissing themed clothing in 2005 to raise money to send his niece, Kalei, to university. As the popularity of the clothing grew, so did the mission. KISSING.TV recently established The "From Rags To Kisses" Scholarship Fund to help orphans go to university. 10% of the revenue generated by The Million Dollar Kissing Contest will go towards the scholarship fund. For more information, please visit http://www.themilliondollarkissingcontest.com/about_kissing_dot_tv.html, email Ka'ohele Carlos at (310) 940-7676.
Media Contact:
Ka'ohele Carlos
310.940.7676
# # #