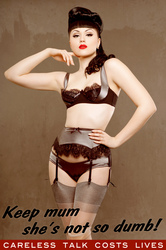 Kiss Me Deadly lingerie celebrates the femme fatale in all her stylish glory
(PRWEB) October 27, 2010
Kiss Me Deadly announce the release of their two vintage inspired collections. Made in the UK, a selection classic girdles and suspenders, all shot in the film noir style as befits their name. Limited editions for the season are all shown as a twist on the role of women during the war, with 40's and 50's styling - perfect for the Autumn trends.
"I mentioned the war once, but I think I got away with it."
Looking back at the 40s, it's easy to think of the war years as a glamour-free zone, all dungarees, knotted hankies on heads and land girls in functional tweeds and chunky knits. But it only takes a glance at photos of people on a night out to the cinema, a dance or a dinner date to realise how wrong that impression is. There may not always have been a steady supply of nylons, and lipstick may have been home made, but with the smouldering likes of Joan Fontaine and Katharine Hepburn onscreen, no woman worth her salt was going to look any less than glamorous!
Kiss Me Deadly's 2010 limited edition range is influenced not just by British women's determination to look glam under fire – even girls on public information posters showed off perfect makeup – but also a period in history where women first truly started making their mark in what was previously a man's world. Not just keeping the wheels of industry working in factories and offices, but also in intelligence, the armed forces, even showing the nerves of steel required to be a secret agent in enemy territory. It was also a turning point in bra development, as two were supplied as part of women's uniforms!
Colourways for this season include sophisticated gun metal platinum and moody, seductive midnight blue – perfect for nights out on the town, or even for wearing under business wear for undercover glamour. The platinum finish features in the previously sold-out Sirena style, while the blue is the latest colour to adorn the perennially popular Alouette range. The other big fabric for the season is a fun but stylish satin print featuring a range of beautifully drawn items from shoes and flowers to powder compacts, in a contemporary take on a retro 40s style. This fabric is used for an all new longline bra, girdle, reversible knickers and two styles of 6 strap suspender belt. All of the printed lingerie items are made in Great Britain, as is our new teddy – available in black or peach.
These new limited edition items will be released at a rate of one or two styles per month in the run-up to Christmas, with retail prices ranging from £15 to £40 per item.
"Keep away from the windows. Somebody might ... blow you a kiss. "
Kiss Me Deadly – Classic Suspenders and Girdles made in the UK!
They always say that blondes have more fun, that the good girls always come out on top, and well, that's just a lie, isn't it? If you've ever seen a sultry femme fatale like Barbara Stanwyk or Rita Hayworth, beautifully poised, totally in control, and wrapping some poor silly man round her little finger, you just know she knows how to have a better time than some simpering 'nice' girl.
Kiss Me Deadly lingerie celebrates the femme fatale in all her stylish glory, with lingerie that perfectly reflects the poised, sculptured look of film noir's most attractive, vampish women, and fits perfectly with so many outfits, from your smartest contemporary business-wear to a fun 40s retro look.
The Kiss Me Deadly permanent range encompasses a wide range of girdles and suspender belts, all made in the UK, covering a range of styles and all with a tailored feel and a sexy, dangerous edge.
The pieces range in price from £25 to £40, and each item comes in a six garter tab style, with all metal fastenings throughout, for longer-lasting style, and suspense you can rely on. The styles are shown worn with Cervin pure nylon 50s style stockings, available in both classic and fabulous fashion shades. The roll-on girdle is also available in blue or pink, to match Cervin's seamed and contrast top stockings.
Kiss Me Deadly recognise that many women feel comfortable in vintage styles, and seek out contemporary clothing that hearkens back to the 40's and 50's. But while the kitsch, colourful pin-up look is great for some, others prefer a more sophisticated, sleek look with an edge. Kiss Me Deadly specialise in femme fatale glamour, with many limited editions and colourways available for one season only, to guarantee exclusivity to our customers. All our items come with metal garter tabs, for all day suspense, and modern fabrics, for an easy, comfortable fit that will adapt to pretty much any body-shape.
Kiss Me Deadly styles are available at their website or through a range of stockists worldwide.
For more information or high resolution images, contact info(at)kissmedeadly(dot)co(dot)uk, or see http://www.kissmedeadly.co.uk
# # #