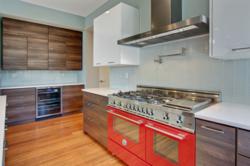 With a nod to the fashion and auto industries in Milan, many of Bertazzoni's products are not only rounded out with sleek chrome detailing, but the colored finishes are actually done with the same technique used on luxury Italian cars.
(PRWEB) February 27, 2013
HomeThangs.com – the Home Improvement Super Store offers a wide variety of kitchen appliances, and makes it their goal to pair consumers with conventional and luxury kitchen ranges that fit their price range and lifestyle.
The kitchen range is one of the most versatile and oft-used appliances in the kitchen. But with trends moving toward big, professional quality kitchen appliances it can be hard to know what features are important for every-day home cooking. HomeThangs.com suggests a few tips to make the decision a little easier.
1. High Powered Gas Ranges.
Serious cooks and chefs of all skill levels agree that gas ranges offer superior power, responsiveness, and heating time compared with electric burners. Gas burners are the first feature to look for, both in conventional and luxury or professional quality kitchen ranges. For more advanced cooks, gas burners with two rings of flame offer a wider range of possible temperatures and are more energy efficient, while sealed burners are easier to clean than conventional models.
2. Cookware.
If it's at all possible, comparing the size of the burners on a prospective kitchen range against the size of the most-used cookware can definitely improve the purchasing process. Both skillets and burners are theoretically standard sized, but how well certain pans sit on certain cooktops can vary quite a bit. To get the best results, it is important to ensure that each pan sits flat on the burner and covers it completely.
3. Accessories.
More than ever, these days kitchen ranges are being designed to be multi-taskers. With grills, griddle plates, wok rings and more that can be added to the cooktop, as well as rotisseries and multi-function ovens, many modern luxury kitchen ranges can do a whole lot more than just heat and bake. To help eliminate extraneous appliances and maximize the utility of the kitchen range, it is important to make a point to see which features, if any, each specific range includes.
4. Oven Capacity Isn't Everything.
The size of a kitchen range and the internal capacity of its oven are important for serious cooks, as they impose a hard upper limit on the amount of food (especially large things like turkeys) that can be cooked at once. But more important for every day cooking is looking at how many racks the oven has, and how many adjustable positions there are. Flexible interior design will allow more dishes to be cooked simultaneously, and grants greater control over how close food can be placed to the heating element.
5. A Convection Oven.
European convection ovens are definitely a hot trend in professional quality kitchen ranges. These have more heating elements than traditional ovens, and use special fans to circulate heat throughout the oven, allowing for faster cooking at lower temperatures. But while convection ovens offer more even, consistent cooking (especially with multiple dishes), they can raise the price of the kitchen range. Plus, for an occasional cook they might be more trouble than they're worth, as they can significantly alter cooking times.
6. Matching The Range To The Kitchen (And The Cook).
Professional quality cooking ranges offer bigger, faster, hotter, more efficient cooking, with some models including multiple ovens or upwards of eight burners. But it's important to match the abilities of the oven to the needs of the cook and size constraints of the kitchen. Cooks who make many multiple dishes at once will benefit from a double oven or a double-wide range. But more casual cooks will likely benefit more from a range with more accessories that focuses on versatility rather than pure power.
HomeThangs.com is more than just a Home Improvement Superstore. They're constantly seeking to provide homeowners and designers with the right products at competitive prices. With a wide selection of products, expert design tips, and comprehensive shopping guides, Homethangs is a company that's there at all stages of the design process, from idea to execution. It's their goal is to make dream remodels doable.