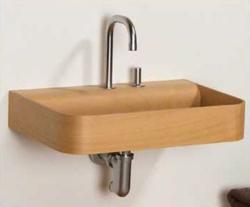 Wood sinks are not only well designed and waterproof but they're also incredibly beautiful and unique.
(PRWEB) November 02, 2012
HomeThangs.com – the Home Improvement Super Store has made their goal to deliver the right product to the consumer, with that in mind, shopping and home design tips, as well as special product selections are being introduced.
These days there's a lot of cool new stuff going on in the bathroom design world, and one of the boldest new trends is bathroom sinks made out of wood. These sinks are not only well designed and waterproof but they're also incredibly beautiful and unique. HomeThangs.com introduced a selection of wood sinks for kitchen and bath to bring a little natural touch to the bathroom, an unexpected statement piece.
1. Wood sinks can be made out of a variety of different types of wood. Bamboo and teak are among the most common by and large, but Whitehaus offers a whole line of sinks and wall mounts made of birch. The Aeri Large wall mounted sink by Whitehaus for example, is a really excellent example of something at the more modern end of the wood sink spectrum. With these, there's no need to be worried about the obvious problem that wood and water don't mix. Wood sinks are designed to be totally smooth and nonporous, meaning they won't absorb water, and they won't leak, warp, or stain – they behave just about like any other sink.
2. Wood sinks do require a little extra maintenance. Depending on the type of wood the sink is made of and the manufacturer's instructions, it typically has to be rinses out with a mild soap once a day and dried to prevent spotting or residue buildup. No harsh chemicals on a wood sink can be used, like nail polish remover or bleach, or abrasive cleaners like ajax or steel wool – a soft cloth and mild soap will do the trick.
3. That said, a wood sink is an excellent way to help warm up a modern bathroom. Any type of wood has a warming quality on a bathroom, and light woods like birch are especially so because they literally help enhance the light and brightness of a space, intensifying natural light. In a modern design, with the modern palette of glass, chrome, concrete, and MDF, it can be a little hard to pull any part of the natural world into the space. But that's part of the beauty of a wood sink – especially one with a very modern design like the Aeri Square by Whitehaus. Though it's shaped like an ordinary modern sink, it doesn't look like one and doesn't act like one, bringing a natural element into an industrial decor.
4. Better still, a wood sink has a bigger impact as a modern fixture for the simple reason that wood sinks are still so uncommon. Wood sinks have just the right amount of cutting edge flair – the interior design equivalent of the element of surprise. A sink like the Whitehaus Aeri Rectangular is more like an objet d'art than a functional fixture, and certainly doesn't look like anything traditional, which only redoubles its stylistic impact.
5. Whitehaus actually offers full wooden sink/vanity/mount assemblies to help solidify your wood sink as a focal point in the bathroom. They range from solid wood to ones made with simple aluminum framing. The latter is one part utilitarian (the frame is lightweight, which makes it easy to hang, and rust free, which makes it ideal for a bathroom environment) and one part easy to coordinate with an otherwise industrial modern bathroom design.
6. Bamboo sinks are a little more rugged and a little more rustic, with a more obvious wood grain and visual texture. The Bamboo Farm Sink from Alfi is technically meant for a kitchen, though it would work for a twist on a farmhouse style bathroom. Bamboo has a high degree of natural variation in both color and texture, making this an excellent choice to showcase the wood. Plus, this fast-growing material is widely considered to be extremely eco-friendly, so in addition to working well in a natural neutral bathroom, it's also well suited for a green home.
HomeThangs.com is not only a home improvement superstore, it also provides expert design tips and a comprehensive shopping guide, taking the ideas from professional interior designers, and offering tips to the consumers on how to pick the products to best suit their needs.