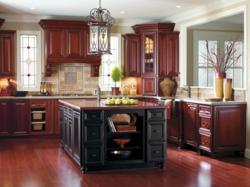 We want to save our customers the trouble of coming into our showroom for the quote
San Francisco, CA (PRWEB) October 20, 2011
Bay Area kitchen cabinet company, Sincere Home Décor is announcing its free kitchen designs and quotes on any of their featured cabinet brands. This special will be offered to the end of the year at any of Sincere's branches in Oakland, San Francisco and Sunnyvale.
"We want to save our customers the trouble of coming into our showroom for the quote," said Karen Au-Yeung of Sincere Home Décor. "It'll be better for our designers to design and talk to the customers about exactly what they want when can see the kitchen in person."
During the one-hour, in-home consultation, customers can receive a free design and quote on cabinet brands such as Kraftmaid, Omega, Abbey Hill, and Schrock. These are prestige cabinet brands with extensive collections of door styles, wood, and colors from which customers can choose.
This is favorable to customers since it can save them time by not having to come into the showroom for the quote. Customers will feel more at ease in their own home and not be worried about possible interruptions that can tend to happen during any office consultation. Sincere's designers will come to clients' homes in South Bay, East Bay, and the San Francisco Area.
Everyone knows that the remodeling process requires a lot of time and effort, which is why Sincere Home Décor strives to make the process as easy as possible for its clients.
For more information about Sincere Home Décor's products and services, email karenay(at)sincerehardware(dot)com, visit http://www.sincerehomedecor.com or call one of their locations. The phone numbers of each location can be found at http://sincerehomedecor.com/hkdc/contact.asp.
About Sincere Home Décor
Sincere Home Décor is the Bay Area's retail store featuring bath and kitchen cabinets, quartz and granite countertops, appliances, bathroom fixtures, windows, hardwood/laminate flooring, wall and floor tiles, and other home remodeling supplies.
###