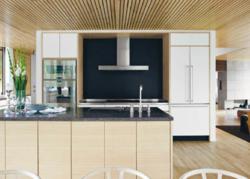 Your new kitchen is a large and serious undertaking. So you can hardly be expected to make your choice after looking at a couple of pictures.
San Francisco, CA (Vocus/PRWEB) February 15, 2011
For those looking for an escape from cookie-cutter designs and cheap materials, Kvänum's new catalogues offer a unique shopping option or simply a viewing pleasure. San Francisco-based, Scandinavian-born interior design company Kvänum has released their 2011 New Inspiration cabinet design catalogues. The catalogues feature stunning pictures of ideas for kitchens, wardrobes, and bathrooms.
The catalogues also tell the story of the 88-year-old Kvänum brand and the craftsmanship that goes into every piece. The two catalogues, titled "Innovation" and "Tradition," offer clients a spectrum of custom choices from more traditional looks to cutting-edge, contemporary styles. Kvänum Custom Cabinets San Francisco is currently the only retail outlet for high-end Scandinavian kitchen and bathroom cabinets in California and North America. The award-winning firm works directly with end customers, designers, contractors and architects on both residential and multi-unit projects.
"Your new kitchen is a large and serious undertaking. So you can hardly be expected to make your choice after looking at a couple of pictures," states a Kvänum representative. At 68 and 84 pages, respectively, the "Innovation" and "Tradition" catalogues offer many glorious photos designed to spark ideas for those looking for inspiration.
San Francisco interior design and cabinet firm Kvänum uses its 88-year past to ground both its cutting edge and traditional designs. Both "Innovation" and "Tradition" catalogues reveal a pre-industrial craftsmanship and attention to detail. "Innovation" kitchens from Kvänum are born of Nordic minimalism. Some of them have been chosen to adorn some of the most remarkable architectural gems of our age.
Others have been awarded prizes, such as Elle magazine's Elle Deco International Design Award. In creating "Tradition" kitchens, Kvänum draws inspiration from illustrious Nordic castle and manor-house environments. Both catalogues are available in PDF form on the Kvänum website, or can be complimentarily shipped to a customer within 1-2 weeks. The San Francisco kitchen design showroom also has copies available for free pick-up.
The styles of cabinetry and furnishings that span both catalogues reveal a fusion of form and function that never goes out of fashion.
For more information about Kvänum catalogues or any of Kvänum interior design and kitchen cabinetry services, visit the San Francisco kitchen cabinet showroom located at 526 Washington Street or view their website at http://www.kvanum.com. Call their San Francisco showroom at (415) 263-9893 to schedule an appointment for a free kitchen design consultation or to learn more. The new showroom hours are Tuesday to Friday from 10 am-6 pm, Saturday from 11 am-5 pm, and Sunday to Monday by appointment.
About Kvänum
For more than 80 years, Kvänum has created customized design solutions to discerning customers all over the world. Beautiful craftsmanship and high quality materials have made Kvänum the market leader in Scandinavia. Recently expanded to the United States and the San Francisco Bay Area, Kvänum employs skilled craftspeople who manufacture every kitchen, bathroom and storage solution at the company's joinery factory on the plains of West Götaland, Sweden.
# # #