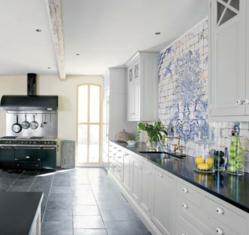 The company is a family business and its loyalty to traditions is familiar to the royal circles.
San Francisco, CA (Vocus/PRWEB) March 11, 2011
A royal warrant of appointment, or becoming an Official Purveyor, is one of the highest honors a company can receive. World-renowned Scandinavian kitchen design and cabinetry company Kvänum has been chosen as the Royal Court of Sweden's Official Purveyor of kitchen, bathroom and storage design and supply.
Royal warrants of appointment have been issued for centuries to those who supply goods or services to a royal court. Several royal families allow companies to advertise their royal patronage as Official Purveyors, including the ruling dynasties of the United Kingdom, the Netherlands, Belgium, Thailand, Denmark and Sweden.
Kvänum's first job as Official Purveyor to the Royal Court of Sweden was to install kitchen, bathroom, and storage cabinetry in the Haga Palace in Stockholm, Sweden. The Haga Palace is home to newlyweds Victoria, Crown Princess of Sweden, and her husband Prince Daniel, Duke of Västergötland. The couple moved into the Haga Palace after their wedding in 2010 and have chosen Kvänum to do the storage, bathroom and kitchen remodel of the over-200-year-old Swedish castle.
"The company is a family business and its loyalty to traditions is familiar to the royal circles," explained Kvänum San Francisco showroom manager Natalia Nordström.
Official Purveyors usually advertise the royal warrant by displaying the heraldic badge of the royalty they are supplying with services. Underneath the coat of arms, the phrase "By Appointment to..." with the title and name of the royal customer is inscribed.
Kvänum kitchens are created personally for each client and have been awarded prizes, such as Elle magazine's Elle Deco International Design Award, for their design. Kvänum San Francisco kitchen design and cabinetry showroom is currently the only retail outlet for high-end Scandinavian kitchen and bathroom cabinets in California and North America. The award-winning firm works directly with end customers, designers, contractors and architects on both residential and multi unit projects.
"Furniture is available in various design options: from trendy to vintage," said Nordström. "Besides regular designers, Kvänum invites artists with modern views to develop new furniture designs. Swedish experts, on the other hand, create classic furniture designs and draw inspiration from ancient Nordic castles and manor houses."
The Swedish Royal Court made a sensible decision when appointing Kvänum as one of its Official Purveyors. The company is an acknowledged leader of the Swedish kitchen cabinetry market. They create high-quality kitchens and furnishing solutions with style and functionality for new buildings, house/apartment renovations, and now, castles.
For more information about Kvänum's Haga Palace work or any of Kvänum's interior design and cabinetry services, visit the San Francisco kitchen cabinet showroom located at 526 Washington Street or view their website at http://www.kvanum.com/. Call their San Francisco showroom at (415) 263-9893 to schedule an appointment for a free kitchen design consultation or to learn more. The new showroom hours are Tuesday to Friday from 10 am-6 pm, Saturday from 11 am-5 pm, and Sunday to Monday by appointment.
About Kvänum
For more than 80 years, Kvänum has created customized design solutions to discerning customers all over the world. Beautiful craftsmanship and high quality materials have made Kvänum the market leader in Scandinavia. Recently expanded to the United States and the San Francisco Bay Area, Kvänum employs skilled craftspeople that manufacture every kitchen, bathroom and storage solution at the company's joinery factory on the plains of West Götaland, Sweden.
# # #