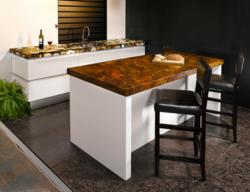 The process behind what we do is often overlooked and letting our community know we are part of the evolution of moving towards zero waste and social responsibility is an important message to share
San Francisco, CA (PRWEB) April 05, 2012
Fox Marble, a San Francisco company featuring kitchen countertops and bathroom countertops made from natural stone, undertook greening and recycling efforts several years ago; however, the company has recently started making plans for the use of solar photovoltaic panels to provide a substantial portion of Fox Marble's existing power consumption. Owner Charles McLaughlin has worked with area businesses, PG&E and the city to advance the implementation of solar panels for business in its industrial area.
"The process behind what we do is often overlooked and letting our community know we are part of the evolution of moving towards zero waste and social responsibility is an important message to share," Bill Gamble, sales manager of Fox Marble, said.
All of Fox Marble's industrial waste is now recycled into alternate products, and the architectural and design communities that it serves are also more aware of the greening of buildings. All stone waste and scrap is transported to a company that breaks it up and utilizes it in road base and pavement. All crates and wood containers are transported to a company that chips them up to manufacture landscaping materials, while all the water that is used in water-intensive manufacturing processes is captured, filtered, treated under ultraviolet light and recycled for re-use. The only additional water Fox Marble purchases is to replace what evaporates.
"This program reflects the management's desire to reach a zero haul off waste scenario and find more economical energy sources that are also more sustainable," Charles McLaughlin said.
For more information about the recycling program or any of Fox Marble's products or services, call 415-671-1149, view the kitchen countertops specialist on the web at http://www.fox-marble.com or visit 1315 Armstrong Ave. in San Francisco.
About Fox Marble
Fox Marble is a stone product fabrication and manufacturing facility in San Francisco. It provides 26 years of excellence in full-service residential fabrication and installation along with stone restoration and care services for kitchen and bathroom countertops, as well as cleaning, sealing and polishing all stone, concrete, tile and masonry products.