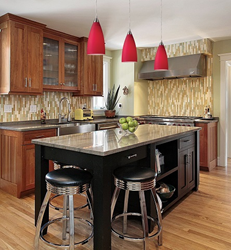 In an open space, choosing a light that mimics the shape of the table can help define a distinct dining area that feels cohesive and intentional, despite the lack of division in the room itself.
(PRWEB) December 12, 2014
HomeThangs.com – the Online Home Improvement Store has made their goal to deliver the right product to the consumer. With that in mind, shopping and home design tips, as well as special product selections are being introduced.
Large, open kitchens have become incredibly popular in the last few years. They make it possible to merge cooking, dining, and gathering spaces, making it easier for families to spend more time together. But it's all too easy for these huge greatrooms to feel amorphous, and for different areas to start to blend together. HomeThangs.com has introduced a guide to using lighting fixtures to add definition to these open kitchens, and choosing the right fixtures to make important areas stand out.
Most large kitchens feature an island, but this multi-purpose fixture often serves different functions from one kitchen to another. Choosing the right lighting fixture not only helps draw attention to a kitchen island as an architectural feature, it can also help define what the island is used for. Different lights can indicate an island as decorative, as a prep area, or even as a distinct dining area, so it's important to choose a light that matches the purpose of the space.
Similarly, lighting can be used to help define a separate dining area, like a kitchen table or dining table. In a very large kitchen, tables can often get lost somewhere between the kitchen and the living room, and don't feel like a distinctive space on their own. Hanging a lighting fixture low over the table top can help visually anchor it, while choosing a light that mimics the shape of the table can help replace some of the definition lost by putting the table in the middle of an open room.
For more details on how to use lighting to add definition to a greatroom, including specific examples, check out the full article here.
HomeThangs.com is not only a home improvement superstore, it also provides expert design tips and a comprehensive shopping guide, taking the ideas from professional interior designers, and offering tips to the consumers on how to pick the products to best suit their needs.