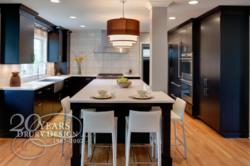 "Winning 11 awards is quite an honor. But more than that, the wins recognize our client's vision to modernize their homes and progress their lifestyle with a signature design."
-Gail Drury, certified master kitchen and bath designer (CMKBD) Drury Design
Glen Ellyn, IL (PRWEB) December 22, 2011
Old is new again – and award-winning at that. With more homeowners choosing to invest in their old house, the remodeling market is on the upswing. If you're looking for the most beautiful kitchen and bath designs in the Midwest, here they are. Sweeping the 2011 National Kitchen and Bath Association [NKBA] Midwest Design Vision awards, Drury Design took best of show and 10 other awards for client projects in Elmhurst, Burr Ridge, Hinsdale, Lisle, Geneva, Bloomingdale and Wheaton, Illinois. "Winning 11 awards is quite an honor. But more than that, the wins recognize our client's vision to modernize their homes and progress their lifestyle with a signature design," said Gail Drury, certified master kitchen and bath designer (CMKBD) and Drury Design's CEO. To view Drury Design's client portfolio and subscribe to the company's Chicago kitchen and bath design trends blog, visit http://drurydesigns.com.
DRURY DESIGN WINS 11 2011 NKBA MIDWEST DESIGN VISION HONORS
Best Of Show: Gladys,Schanstra, CKD, CBD
Large Kitchen: Gail Drury, CMKBD first and second place; Terry Kenney third place
Medium Kitchen: Gladys Schanstra, CKD, CBD first place; Terry Kenney third place
Large Bath: Gail Drury, CMKBD first place, Terry Kenney second place, Gladys Schanstra , CKD, CBD third place
Honorable Mention Kitchens: Brigitte Fabi, CMKBD; Terry Kenney
These Chicago custom kitchens feature Grabill custom cabinetry and Wolf Sub-Zero appliances.
ELMHURST COLONIAL WINS BEST OF SHOW and FIRST PLACE MEDIUM KITCHEN
After attempting to sell their home, these clients chose to stay and invest in modernizing their home. Designed by Gladys Schanstra, CKD, CBD and the winner of NKBA Midwest's Best of Show Award, this project included adding on a new custom kitchen and master bath, along with major updates throughout the house.
The kitchen now features an open layout, seating for four at the island, sizable storage, and durable, kid-friendly materials. Elements throughout the space linger from the old house, such as the living room fireplace surround with dentil molding.
In the master bath, a large, round soaking tub creates a focal point between the shower and water closet room, both angled symmetrically around the tub. "Old wood plank" tiles cover the floor to give the room a rustic, warm lodge feel without the maintenance of wood. Linear Crossville mosaic glass tiles in green tones highlight the shower walls and tub surround, completing the hues of nature.
"The best reward for me is seeing the clients use this space comfortably every day and enjoying all the aesthetics that go along with it. They no longer have to choose between a beautiful kitchen or a functional one – who says you can't have it all?" said Gladys Schanstra, NKBA Midwest Best of Show winner.
BURR RIDGE HOME WINS FIRST PLACE LARGE KITCHEN AND LARGE BATH
Can traditional detailing marry modern simplicity – and live happily ever after?
Custom kitchen designer Gail Drury, CMKBD, answered that question with an emphatic yes. Winning first place in the large kitchen and large bath categories, two very different design visions come together to compliment this Burr Ridge, Illinois home's architecture.
White cabinets surround a walnut-stained island, balancing simple lines with rich details. An intricate tile design incorporates a mix of stainless steel tiles, marble tiles and metal liner strips for a stunning result.
Challenged to fit a myriad of appliances and upgrade storage while staying within the existing kitchen's footprint, intelligent design solutions define the space. A furniture-like island divides the kitchen space from the living area for a better traffic flow. A Lutron lighting system conceals all electrical outlets.
Creating a calming retreat with a luxurious, spa-type feeling was the main objective for the master bath design.
Rich materials like variations of Calcutta gold marble, a wave of undulating mosaic tiles and polished nickel faucets, exude luxury in this master bath.
To achieve the openness the clients desired, the design replaced interior walls with glass panels. Frosted glass creates privacy for the commode area. Clear glass in the shower area showcases the tile design. A digital shower system complete with stereo, mood lights and multiple showerheads, amplifies the sense of luxury.
The overflow Kohler tub itself is a statement to the elegance of this exquisite room. The fine cabinetry hides many amenities, a few of which are mirrored backs on the doors for ease of hair styling and a framed TV to keep up on the daily news.
About the NKBA Chicago Midwest Design Visions Contest
NKBA's Chicago Midwest chapter sponsors the Design Vision contest in partnership with Chicago Home Garden magazine. Judged by NKBA Chicago Midwest chapter members, the contest recognizes outstanding kitchen and bath design. Competition is open to designers throughout the Midwest. To enter, designers submitted photos along with a project profile. Five Drury Design projects received 2009 NKBA Design Vision Awards and two received honorable mentions. In 2010, the team won six awards and an honorable mention.
About Drury Design, Award-Winning Kitchen and Bath Studio
Client-focused design is the key to Drury Design's success. Founded by Gail Drury, CMKBD, a pioneering mompreneur in 1987, the studio is a nationally recognized kitchen and interior design center. Located at 512 N. Main Street in Glen Ellyn, Illinois, the award-winning studio is one of the largest in the Midwest. With over 1,000 completed projects, Drury Design's team is dedicated to delivering complete client satisfaction. To interview Gail Drury, CMKBD, about kitchen, bath and home design trends or to request permission to use an image, contact Jim Drury at 630.469.4980. View Drury Design's online custom kitchen and bath design portfolio at http://www.drurydesigns.com/portfolio/.
# # #