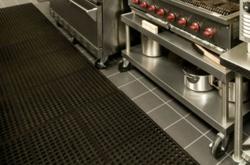 Chandler, AZ (PRWEB) January 10, 2013
Rubber Flooring, Inc. recently released six new matting products designed for use in commercial kitchens and entrance ways. The new products include two commercial grade rubber kitchen mats and four commercial entrance mats. The expanded lines of mats are available in multiple color options and will ship out of Chandler, AZ the same or next business day after an order is placed.
"We have carried the NoTrax line of matting products for about four years now," states RubberFlooringInc.com CMO Anthony Schmidt. "We carried everything from entrance mats, to kitchen mats, to anti-fatigue mats and we sold a fair amount of mats without even trying. Our focus has been on growing our rubber and foam flooring business as well as our garage flooring business. In the last few years, we have grown our business to a point where we feel we are now dominating those flooring niches and need to look in other directions to sustain our growth. One of those directions is commercial matting products such as kitchen and entrance mats."
The two new commercial grade kitchen mats have been coined the Cushion Comfort mat and the Safety Step mat. Both mats are made from high grade rubber and are designed to provide a safe and comfortable surface for employees to work on in kitchens. The new entrance mats include two exterior entrance mats coined the Rubber Bristle mat and the Entrance Guard mat. Two interior entrance mats have also been added and they have been named the Turn Style mat and the Downtown mat. All of the new matting products ship the same or the next business day and are guaranteed with a one year warranty.
"Kitchen mats and entrance mats have long been an afterthought at our company" states RubberFlooringInc.com lead merchandiser Lamont Robbins. "One of the reasons for that was that we put a lot more focus on selling our other products. We also realized that our prices were not competitive since there were too many middlemen between the manufacturer and the end customer. These new mats are now being sourced directly from the manufacturer which means that we can go to market for almost half the price we used to go to market. We believe that will put us in position to finally be competitive in the commercial matting market."
"RubberFlooringInc.com plans to add more kitchen and entrance mats in the future" states CTO Chuck Chan. "Whenever we attack a new market, we like to start with a few new products that we believe can helps us gain some initial market share. Once we feel like we have our foot firmly planted in the door, we then will attempt to begin expanding our product offerings." All of the new products are available for order immediately on Rubber Flooring, Inc.'s Website.
About RubberFlooringInc.com
Headquartered in Chandler, AZ, RubberFlooringInc.com is a subsidiary of IncStores.com along with its sister websites GarageFlooringInc.com and FoamTiles.com. RubberFlooringInc.com focuses on offering the widest variety of rubber flooring and matting products available at the lowest prices offered online. All of Inc Stores web shops offer top notch and knowledgeable sales and service, and the highest quality products available. For more information, please visit http://www.rubberflooringinc.com.