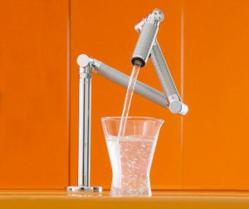 Replacing a kitchen faucet is hands down the fastest, easiest, and least expensive way to dramatically improve the appearance and functionality of the kitchen.
(PRWEB) September 12, 2012
HomeThangs.com – the Home Improvement Super Store has made their goal to deliver the right product to the consumer, with that in mind, shopping and home design tips, as well as special product selections are being introduced.
Replacing a kitchen faucet is hands down the fastest, easiest, and least expensive way to dramatically improve the appearance and functionality of the kitchen. Maybe more importantly, replacing an older or corroded faucet goes a long way towards cleaning up and even updating the look and feel of the kitchen.
HomeThangs.com introduced a selection of kitchen faucets to fit any budget, as well as a tip sheet to help the consumers pick what's right for them, offering a wide range of brands to choose from.
1. Bare bones, pure functionality, no-frills kitchen faucets can cost less than hundred bucks, and if the existing faucet is in particularly bad shape, even a very plain-jane fixture can dramatically improve the appearance of the kitchen. For example, a simple, sleek Cascada kitchen faucet from Ruvati is a great choice, because it's inexpensive (only $90!) and minimal, but also stylish. It's no out of date, old fashioned faucet, it's lovely and unobtrusive, perfectly suited for a modern kitchen.
2. When kitchen faucets start getting expensive is when one either wants some more design to it, or more integrated functionality, though oddly enough it's the former that will often cost you more. Herbeau kitchen faucets are famous for their authentic artisan designs, made from the same casts and using traditional methods and materials used for more than a hundred years in the Provence region of France. For a French country kitchen, one can't get much more authentic than the Herbeau's Valence faucet, but it'll also put the project in a much bigger budget bracket.
3. There are a lot of brands out there making kitchen faucets, and many designs one falls in love with can be found from another brand for a very different price. For example, the Af-430 Kitchen Faucet from Artisan has a similar French countryside inspirations and design, but will set one back about a third what the one from Herbeau would.
4. Where things start to get a little tricky is when looking for the most technologically up to date faucets out there. For example, the Touch2o faucets from Delta. They can be turned on and off with just a touch of any bit of bare skin, reducing the potential for cross contamination, no matter how dirty the hands happen to be. No other brand has anything like it yet, so if one wants the tech, there isn't always a whole lot of room to shop around. Thankfully, though, at least the Touch2o faucets, are pretty reasonably priced, and also come with integrated pull-down spray nozzles for added functionality.
5. Most add-ons – like the aforementioned pull down sprayer, or a flexible Iron Chef style neck that can be easily grabbed or moved to rinse a sink or cool down a pressure cooker, are available from at least a few different manufacturers in a variety of styles (and for different prices). Vigo alone carries several variations on flexible-neck pull-down kitchen faucets like the Double Faucet version, ranging from the mid $100s to no more than about $300, all with a sleek chrome or stainless steel finish and a professional culinary style design.
6. Standard pull-out kitchen faucets, too, are starting to become ubiquitous in the market, and when shopping less well known brands like AmeriSink, they can be a whole lot less expensive. The Amerisink Kitchen Faucets are simple, stylish, and with a slightly modern bent, but they'll cost about half what a similar faucet from a bigger designer brand.
7. Same goes for the geometric, modern Pull Out Faucet from Dawn – it's a minimal, ultramodern design that will work perfectly with a modern kitchen update.
8. If looking for a faucet that's unique, high end designer pieces like the industrial-inspired fully-articulated Karbon faucet from Kohler is something to look for. It doesn't add any functionality that some of the simpler flexible neck or pull down faucets would, but it'll certainly be a unique looking fixture.
With so many faucets to choose from, there are a few things to keep in mind in order to pick the right one:

Set a budget
Know the style
Define the functionality needed
Know the dimensions requirements
Shop less expensive brands
Shop around
Shop online
HomeThangs.com is not only a home improvement superstore, it also provides expert design tips and a comprehensive shopping guide, taking the ideas from professional interior designers, and offering tips to the consumers on how to pick the products to best suit their needs.