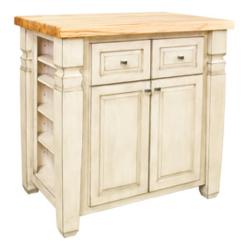 When buying a kitchen island it is important to consider what it has to do and how it will be used.
(PRWEB) November 23, 2012
HomeThangs.com – the Home Improvement Super Store has made their goal to deliver the right product to the consumer, with that in mind, shopping and home design tips, as well as special product selections are being introduced.
Big, beautiful, fully-equipped kitchen islands are probably the single biggest trending item in 2013 kitchen design. They've been gaining in popularity for years, but if planning a kitchen remodel for the coming year, a kitchen island is virtually a must-have. But there are all kinds of kitchen islands out there, from big custom builds to tiny island carts. HomeThangs.com introduced a buyer's guide to help homeowners decide what kind of kitchen island is best suited to their specific needs.
1. Extra Storage
A lot of people are plagued with a small kitchen that's made worse by impressively badly designed cabinetry. If it sounds familiar, one should probably look for a kitchen island that's something like ISL12-FWH Jeffrey Alexander Island from Hardware Resources. This particular one is one-sided, though there are larger models with cabinetry on both sides, but what's important is that it offers two full sized drawers, a cabinet with an adjustable shelf, and open sides with four more adjustable spice-rack style shelves, packing as much storage as possible into a relatively small kitchen island.
Open kitchen islands, like the ISL10-FWH Compact Island by Hardware Resources for example, are great for storage as well, but have a very different visual appeal. With a few extra brackets installed on the underside, one could easily use this kitchen island to hang and display all pots and pans without having them dangling down over the head. Or, even if satisfied with kitchen cabinetry, having an open kitchen island offers more work space while keeping kitchen space from seeming crowded.
2. More Seating
Open kitchen islands are also a great way to add additional seating when needed. While most storage-rich kitchen islands don't leave a whole lot of leg room, open kitchen islands are more table-like in style, sacrificing a little in the way of storage to make the kitchen more accessible for dining. There's even enough room underneath something like the ISL09-AGB Table Style Island by Hardware Resources that one can stow a few bar stools, offering more seating when you needed and more floor space when not. While some custom made kitchen islands offer a more complex blend of seating and storage, they're also often much larger, so it is important to take the size of the kitchen into consideration before choosing between the two.
3. Alternate Prep Station
Depending on how extensive a prep station is needed, this is actually the most difficult type of kitchen island to build, even if buying pre-made. While many of the kitchen islands mentioned have build in maple or birch butcher blocks that are like one great big cutting board, if one wants a built in sink, or any type of appliance, from range to cook top to wine cooler, it would be necessary to run plumbing, electricity, and gas to wherever it is planned to put the island. That said, the Iron Occasions Island from Kohler is a nice option for a modern kitchen, with an enameled cast iron counter and integrated trough-style sink, so any mess wipes away into the sink easily. Plus, it comes with additional cutting boards one can place directly onto the sink to further streamline the prep. It also comes with a stainless steel cover to hide all the unsightly plumbing while leaving plenty of open space.
4. More Space in a Small Kitchen
While we mostly think of kitchen islands as being an addition for a big, luxury kitchen, smaller kitchen islands, or kitchen island carts, are a great solution for a small kitchen without quite enough counter space. Something like the Chefhaus from Whitehaus can fit fairly inconspicuously in the center of a small, square kitchen, or at the end of a line of counter tops, and offers an excellent work space and storage space.
Some models, like the lovely cherry RSVP Table Island from Kaco, even come with built in drawers for a little extra storage, or built in butcher blocks for a separate, easy to clean prep or serving space. The ones with castors can still be moved with a little more effort, and have a more finished, permanent look to them.
Kitchen islands come in a wide variety of sizes, shapes, and styles. So while installing one is an excellent way to keep the kitchen on trend, it's important to consider what the kitchen island has to do and how it will be used.
HomeThangs.com is not only a home improvement superstore, it also provides expert design tips and a comprehensive shopping guide, taking the ideas from professional interior designers, and offering tips to the consumers on how to pick the products to best suit their needs.