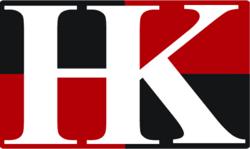 Erin's youth brings a new dimension to our designs and her collective experience and expertise adds to what we can offer our clients
Raleigh, NC (PRWEB) September 28, 2012
Max Isley, CMKBD, President of Hampton Kitchens of Raleigh, a Triangle area kitchen and bath design and remodeling fixture since 1974, announced the recent opening of their new showroom located at 6320-B Angus Drive, facing Glenwood Avenue across from the Angus Barn in Raleigh.
In addition to the new location, Hampton Kitchens is pleased to announce Erin Isley Cordes to the ownership team. Erin is the second generation owner for Hampton Kitchens and brings with her over 10 years of experience in the custom furniture, interior design and building supply industries. Erin's expertise, coupled with that of her father, Max, enhances the core capabilities of the firm.
Max Isley, CMKBD is a licensed general contractor in NC, as well as a Certified Master Kitchen & Bath designer and internationally recognized industry expert featuring projects in 7 countries. Max's work has been highlighted in several national magazines.
"It is truly a thrill to work with my daughter as a professional peer," said Max. "Her youth brings a new dimension to our designs and her collective experience and expertise adds to what we can offer our clients – it is really an exciting time at Hampton Kitchens!"
Erin added, "My dad was always well respected in the industry and by his clients; now I understand why. I can learn a lot from him, but I also believe that I can add a refreshing perspective to the Hampton Kitchens brand."
About Hampton Kitchens:
Max Isley, CMKBD, has owned and operated Hampton Kitchens of Raleigh, Inc. since 1974. He is a licensed general contractor and has been a Certified Kitchen Designer since 1981, longer than any other active designer in the state. After achieving the Certified Kitchen Designer (CKD) and Certified Bath Designer (CBD) professional designations, Max obtained the Certified Master Kitchen & Bath Designer (CMKBD) professional designation through an extensive educational, examination and endorsement process coupled with many years of kitchen/bath industry experience. Max is one of only a few kitchen designers in the country who have achieved this, the highest professional certification available in the industry. Max's custom kitchens have appeared in numerous award-winning Parade of Homes and Street of Dreams entries. Max has designed kitchens all over the United States and the world. He is also an international speaker, consultant, and instructor for kitchen design and remodeling workshops, and is a member of the Speaker's Bureau of the National Kitchen and Bath Association (NKBA).
Max judges design contests for the National Kitchen & Bath Association. In addition, he is one of only a few Certified Master Kitchen and Bath Designers in the United States who is asked by the National Kitchen & Bath Association to grade the kitchen designs of hundreds of candidates who sit for the Certified Kitchen Designer exam each year. Max has been nominated by the National Kitchen & Bath Association as Remodeler of the Year and has received the Certified Kitchen Designer National Merit Award on six separate occasions. Max is the former president of his local NKBA chapter and served two terms on the NKBA Board of Directors for a total of 8 years; the last two years he served as Treasurer and then Secretary.