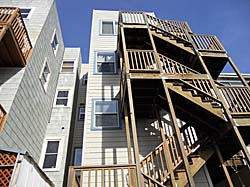 We are very proud and fortunate to be a part of this wonderful community.
San Francisco, CA (Vocus/PRWEB) March 05, 2011
Cal Star Construction, a premier San Francisco Bay Area remodeling contractor, is celebrating their 25th anniversary this year. Since 1986 the founder, a man simply named Tachtook, has built Cal Star Construction utilizing the same elements he uses on every home he builds: hard-work, integrity, responsibility, careful money management, high-quality workmanship, and a love of people and the craft.
"We are very proud and fortunate to be a part of this wonderful community," said Tachtook. "This area is our home, and we work hard to make it a better place for everyone one home at a time."
Indeed, Cal Star Construction has earned itself a stellar reputation in the community. Feedback on the Internet at sites like Yelp.com speak to the company's honest and hard-working approach to interior and exterior home remodeling in the Bay Area.
"Cal Star renovated and painted the outside of our 3-unit building and cottage for a reasonable cost," said Mandi Weist, a Cal Star Construction customer. "They did an impeccable job, and exactly as we wanted. The crew was habitually on time, worked long days, and always cleaned up the work-site every evening. The contractor was available anytime, made great suggestions, succeeded in staying within budget, and most importantly, is very honest."
Cal Star Construction prides itself on integrating style, functionality, and superior craftsmanship into all of their work. Whether the project involves is a San Francisco kitchen remodel, an ocean-view deck in Pacifica, or adding an additional floor in a San Mateo renovation, their dedication and attention to detail consistently exceed the expectations of their clients.
By working closely with every client, Cal Star goes into the project fully aware of the budget and requirements. And by establishing and maintaining a healthy partnership with the customer, they develop and work the right plan that ensures the best results within budgetary restrictions. Cal Star handles all aspects of the construction process, from securing all necessary permits to thoroughly inspecting the project and ensuring satisfaction at completion.
In addition to their core business of designing and remodeling interiors, Cal Star has extensive experience constructing interior and exterior stair cases. They excel in the design and installation of linear and curved handrail system that enhance the home's appearance.
Cal Star Construction also specializes in beautifying and extending the functionality of homes outside. They design and install handsome custom designed decks, patios, screened porches, fences, awnings, gazebos, railings, and outdoor kitchens.
For more information about Cal Star Construction's 25 year legacy or any of Cal Star Construction's services, call them at (415) 240-4373 or visit them on the web at http://www.calstarconstructioninc.com.
About Cal Star Construction
Founded in 1986, Cal Star Construction is a San Francisco residential contractor that specializes in carpentry, concrete, earthquake reinforcing, earthquake retrofit, big and small remodels, home additions, new construction, engineering, masonry, painting, plumbing, roofing, windows, doors, electrical, architectural design, project management, and the permit processing.
Cal Star's experienced staff members are certified and each has been employed at Cal Star for at least 10 years. Cal Star only uses the best materials available, and holds ongoing training and safety seminars to ensure the procedures they use are up-to-date, in style, and safe.
Cal Star is licensed and bonded and offers warranty and insurance for all services provided. Most importantly, they work hard to finish each project on time and under budget.
# # #