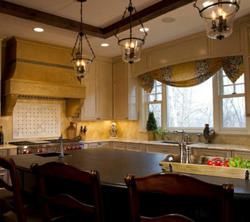 "Homeowners can recoup up to 76% kitchen renovations costs when selling the home."
~ National Kitchen and Bath Association
Wayzata, Minnesota (PRWEB) February 08, 2013
Remodeling Magazine's annual survey of cost vs value helps homeowners avoid sticker shock when it comes to making home upgrades. The survey shows that kitchen remodeling and upgrades remain in the top ten home improvement projects that add value to a home, are green friendly - and at reasonable costs.
"When you're truly remodeling your house to fit your lifestyle, you do so to increase your quality of life and enjoyment in your home," Butch Sprenger, owner of Destiny Homes says. "Cost is secondary. If you're planning to live in the same home five years or more, then renovating your kitchen, where families spend considerable time, will pay for itself in ease and the pleasure of daily use."
Investors buying homes with plans to renovate them for the purpose of gaining rental income, or homeowners who are are embarking on kitchen upgrades to sell a home faster, need a clear cost vs value expectation, according to Sprenger. Kitchen renovations range from minor upgrades to to a full kitchen home addition, and the Remodeling Cost Vs Value Report offers corresponding guidelines.
Costs vary by location: area home values fluctuate and material cost are determined by local suppliers. On the high end, Zillow says a kitchen upgrade in 200-square-foot kitchen with 30 linear feet of cabinetry could offer a 98.2% recoup in cost per value. Remodelers Magazine median estimate costs vs value for a Twin Cites area kitchen remodel at $65,500 will have a resale of $41,029 at a ratio of 62.6% recoup.
Destiny Homes see the following as some of the top kitchen renovation ideas:
1) Custom Kitchen Countertops - Upgrading kitchen workspaces by replacing the countertops to a natural stone like granite or the new trend of countertops- a quartz composite. A luxury kitchen remodel look can be obtained at a fraction of the usual cost if a remnant works. Numerous green-friendy countertop materials continue to emerge with both the sustainability and style to appeal to homeowners seeking less maintenance.
2) Kitchen Accessories - Adding crown molding to existing cabinets accentuates the architectural detailing of a home's style. New cabinet faces with new knobs, pulls, and cabinet hinges add personality. From sleek and modern to classic and ornate, kitchen hardware upgrades refresh the entire look of a kitchen.
3) An Open Modern Kitchen - Kitchens benefit from being opened up. Removing a non-weight bearing wall, or enlarging a doorway can make a kitchen space seem larger than its floor plan previously suggested. If a wall seems "in the way" and is necessary for the structural soundness of the home, a pass through option may serve the purpose of opening up the kitchen space.
4) New Kitchen Windows - Bay windows, sky lights and green-friendly Sola tubes are a few options for creating a light-filled kitchen. Windows are so important for fresh air to deal with kitchen moisture and odors,and bring daylight to make cooking preparations easier.
5) Kitchen Backslash - A kitchen is quickly set apart with personal choices using costume designed backsplash tiles for areas around the cook stove or wherever wall surfaces need extra protection from moisture and cooking splatters. Consumers can choose from glamorous glass, antique mirrors, or mother-of-pearl mosaics. Back-painted, solid glass panel backsplashes are trendy for the modern kitchen look.
6) Kitchen Appliance Upgrades - Updated kitchen appliances improve a kitchen's overall look while keeping energy bills lower than before. New appliance models are not only smart looking but if they feature the Energy Star seal, current owners and potential homebuyers know that appliance exceeds Department of Energy guidelines for energy efficiency by at least 10 percent. According to a recent survey by the National Kitchen & Bath Association, energy-efficient products are among the top trends in kitchen upgrades that deliver long-term cost vs value to consumers.
7) Hardwood Floors - Pre-finished and engineered wood flooring are available in more choices than ever. They provide a kitchen with the look of real wood, eliminate the sanding dust dilemma and come with UV-cured aluminum oxide finish for greener homes. Engineered wood floors are compatible with under-floor heating systems, a huge favorite in Minnesota homes and often used in luxury Wayzata home renovations.
8) Healthy Energy Efficient Kitchens - Green and sustainable kitchen designs and materials that focus on function and ease create healthy living environments that free of toxins, harsh chemicals and excessive energy consumption. Homeowners are prompted by government incentives to evaluate their home's energy efficiency and overall performance.
Destiny Homes offers 24/7 service to be accessible to customers at all times. Call 952-934-5706 for a home renovation in Wayzata, Eden Prairie, Minnetonka, Edina, Plymouth or surrounding metro areas.