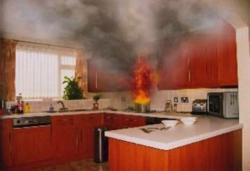 Kitchen fires are very common in households, although they are very easy to avoid. Following these simple tips from the experts makes protecting ones home easy.
Baltimore, MD (PRWEB) June 14, 2013
Kitchen and cooking fires are one of the most common types of fires that occur throughout the country each year, and they lead to significant damage, injury and even death in many circumstances. Despite the prevalence of kitchen fires, there are simple steps that can be taken to avoid becoming the victim of a house fire because of cooking.
The home alarm and safety experts at AlarmSystemReport.com, a site that ranks and reviews alarm system companies, created a list of tips to prevent potential kitchen fires. AlarmSystemReport.com is a valuable resource for anyone in the process of researching alarm system companies.
1. Keep smoke detectors in proper working order at all times. This is the best way to help prevent a fire from becoming deadly. Perform regular maintenance on detectors at least once a month. If smoke detectors aren't present in a home many DIY home alarm systems provide the option to install smoke detectors quickly and easily.
2. Always stay in the kitchen when cooking. Although it sounds fairly obvious, the National Fire Protection Association reports that food left unattended while cooking is the number one reason cooking fires occur. If it's required that the person cooking step away, the burner or oven should be turned off and the food should be moved to a cool area.
3. Keep the stove top clear of items including oven mitts, paper towels and dish towels. All of these items should be kept a reasonable distance away from the stove and oven at all times.
4. Wear clothing that fits fairly tightly when cooking, loose fitting clothing and billowing sleeves can touch burners and catch fire. This is not only a fire hazard, but can also cause the person cooking great bodily damage.
5. Clean the stove top after every time it is used. Any potential spill on a stovetop, but especially grease and oils can be flammable.
6. Know the proper cooking temperature for oils. Oils that are overheated can begin to smoke and bubble, and if they spill onto the stove top it can lead to a fire.
7. Don't throw grease into a trashcan while it's hot. Either wait for it to cool or dispose of it by containing it in an old food container.
8. Use timers when cooking. Not only will a timer prevent food from burning and overcooking, but it will also remind the person cooking to keep an eye on what's going on in the kitchen.
About AlarmSystemReport.com
AlarmSystemReport.com is the leading online provider of information about the home alarm industry, and offers site visitors the opportunity to access the name of the top home alarm system in the country. Additionally, the site provides alarm system news and access to discounts and coupons on home alarm system installation.