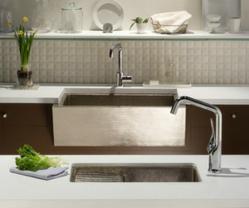 Up close and personal, Artisan kitchen faucets and sinks feel sturdy as well as looking beautiful, and are sure to last for years to come.
(PRWEB) August 28, 2012
HomeThangs.com – the Home Improvement Super Store has made their goal to deliver the right product to the consumer, with that in mind, shopping and home design tips, as well as special product selections are being introduced.
When planning a kitchen remodel, choosing some of the smaller elements – like the kitchen faucet and kitchen sink – can be daunting, if only for the sheer number of options available. Even with a specific style in mind, there are so many slight variations, both in price and looks, that it can be difficult even to know where to start. It can be tempting to go with a very common household name like Delta, or Kohler – but taking the time to shop smaller, niche manufacturers like Artisan can really pay off long term.
Artisan kitchen sinks are made with the highest industry standard materials, and Artisan kitchen faucets are all hand-crafted elegance, but contain many of the same sleek, modern features found from a bigger brand. HomeThangs.com introduced this unique line along with a tip sheet on what makes it so special.
1. Each of Artisan stainless steel sinks are hand crafted of 16 gauge steel. Put simply, the "gauge" number is how many times the piece of steel has been pressed flat, so the higher the number, the thinner the metal, and the lower the number, the more durable. All of Artisan's stainless steel sinks are 16 gauge – the lowest gauge and highest quality steel used for this purpose.
2. Artisan's stainless steel kitchen sinks are less likely to warp, dent, or flex when heated than other brands that use the more common, thinner, 18 or 20 or higher gauge steel. The quality shows up in the longevity of sinks as well – because the steel is thicker, it's heavier and longer lasting. Steel is also less prone to be damaged, scratched, or stained, than porcelain, stone, or other materials, and it's much, much easier to clean. Steel sinks work well in just about any style kitchen, and are both neutral enough to blend with a variety of designs and hearty enough to withstand a wide variety of chefs.
3. Artisan kitchen sinks are available in single bowl and double bowl styles, and their stainless steel sinks come in a huge variety of shapes and sizes, from large rectangular basins to staggered double bowls. More than almost any other material, it's easy to get a stainless steel sink sized and shaped to fit the specific needs and dish washing habits, and all of their sinks have matching sink grids to help further protect the steel surface.
4. Artisan offers high quality, hand crafted copper sinks as well. Their Handcrafted Antique Farmhouse Sink is the real star of their kitchen collection. With a solid copper construction and beautiful hand-finished detailing and antique patina, this apron sink is not only ultra durable and easy to care for, but are also quite eye catching. These are a great way to jazz up a traditional country style kitchen and make it look just a little bit more formal or classical.
5. Maybe even more important than a kitchen sink is the faucet that feeds it. Artisan kitchen faucets come in a wide variety of shapes and styles, but most of them come with pull out or pull down style spigots.
For those looking for something classical to go with one of those copper sinks Artisan offers a Country Style Faucet. The simple, subtle French countryside influence shows through in the design, with bell-shaped curves and a small handle reminiscent of antique water pumps. It's also available in rubbed bronze as well as the nickel finish, which makes it a better pair for a sink with a luxurious patina.
6. Certain artisan kitchen faucets come with soft rubber nubs attached to the mouth of the faucet, or integrated into the aerator. These nubs make cleaning easy, and prevent mineral buildup over time.
Artisan's kitchen collection is relatively small, but that means that each and every Artisan kitchen sink and faucet is made to the highest quality standards. In many cases, the fixtures are even hand crafted, so each piece is a genuine work of art. Their limited line also enables Artisan to offer the highest quality materials in every piece they make – and one can really feel the difference. Up close and personal, Artisan kitchen faucets and sinks feel sturdy as well as looking beautiful, and are sure to last for years to come.
HomeThangs.com is not only a home improvement superstore, it also provides expert design tips and a comprehensive shopping guide, taking the ideas from professional interior designers, and offering tips to the consumers on how to pick the products to best suit their needs.