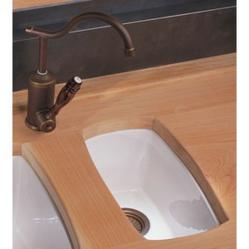 Where a two-sink setup really shines is in kitchens that are frequently used by more than one person at once.
(PRWEB) June 29, 2013
HomeThangs.com – the Online Home Improvement Store has made their goal to deliver the right product to the consumer. With that in mind, shopping and home design tips, as well as special product selections are being introduced.
Adding a second sink is starting to show up on a lot of kitchen to-do lists. Having a second sink, whether a small prep sink or a second full sized one, can solve a whole host of common kitchen annoyances, but the convenience doesn't come without a cost. HomeThangs.com has introduced a simple guide to which kitchens could use a second sink – and which ones would be better without.
A secondary sink isn't right for every kitchen, and in some cases can be a lot of trouble and expense for something that might not get a lot of use. Because even small sinks will need both a water supply and a drain line, this is a project that should only be undertaken as part of a larger remodel. A consult with a contractor to determine the cost (and feasibility) of plumbing the area in question should be done very early in the planning stages.
If plumbing the area is feasible, the next important step is to determine what the sink will be used for – and whether or not the existing kitchen sink can do the job on its own. Second sinks work better the bigger the kitchen; even in a moderately sized kitchen, it isn't a big trip from one end to another. While a secondary sink might save a few steps, if there isn't much space between the two sinks, it might not be worth it. Placing two identical sinks side by side seems unnecessary at best, but very large kitchens with two obviously separate prep stations almost demand two separate sinks.
Where a two-sink set up really shines, though, is in kitchens that are frequently used by more than one person at once. For a family that cooks together or a couple that entertains, having only one source of running water can be a pain. Adding a second sink can allow two people to work comfortably in the same space without rubbing elbows. Though, again, this really works better the bigger the kitchen, as even a small sink can monopolize the counter space in a too-small kitchen.
Secondary kitchen sinks are great for a second prep space, but it's important to figure out ahead of time where the prep space is and why it's needed. For example, having a second sink on the far side of a large kitchen island makes sense – it allows the space to be used for prep and easily be cleaned up without walking all the way around to get back to a sink. Separate prep spaces can also be nice if for kitchens with a dedicated baking station, making it simple to add water or wash hands without crossing the kitchen. Second sinks are also ideal for butler's pantries that are physically removed from the main kitchen (and sink).
For those considering a second sink to eliminate the problem of carrying heavy pots of water across the kitchen, installing a second sink might actually not be the best option. To streamline the process of making large quantities of soup or pasta, installing a pot filler into the backsplash above or counter alongside a kitchen range is a much more efficient solution, as it allowing pots, pans, and kettles to be filled directly on the stove. For a faster, simpler way to brew coffee or tea in the morning, installing a second sink near a espresso machine or coffee setup can work, but adding a drinking water faucet to the primary sink, combined with a point of use water heater and an undercounter water filter can actually produce better water that's hotter, faster.
For frequent entertainers, adding a second, wet bar style sink can make it easier to sit and serve drinks without repeated trips across the kitchen. Though this is a feature more commonly associated with a home bar than a kitchen, in a sufficiently large kitchen – either with a large kitchen island with multiple seats, or a kitchen with a separate eating nook – even a relatively small sink can add significant convenience for entertainers.
To see a few designer kitchens with secondary sinks, read the full article here.
HomeThangs.com is not only a home improvement superstore, it also provides expert design tips and a comprehensive shopping guide, taking the ideas from professional interior designers, and offering tips to the consumers on how to pick the products to best suit their needs.