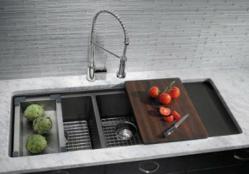 1. Silgranit is a composite material made of 80% rock hard granite. The result is a sink that has the look and feel of real, natural stone, but is both lighter weight and more durable.
(PRWEB) October 05, 2012
HomeThangs.com– the Home Improvement Super Store has made their goal to deliver the right product to the consumer, with that in mind, shopping and home design tips, as well as special product selections are being introduced.
Most people are pretty tough on sinks - hand washing dishes, scrubbing pots and pans, some have unreasonably hard water, all of that causes scratches and marks and stains on the sink. HomeThangs.com introduced to its collection a new kind of kitchen sink that's resistant to staining, scratching, and chipping – Silgranit by Blanco. Also, a tip sheet on the advantages of this revolutionary material has been offered to educate the consumers.
1. Silgranit is a composite material made of 80% rock hard granite. The result is a sink that has the look and feel of real, natural stone, but is both lighter weight and more durable. The other 20% of stuff in the mix is between them and the patent offices, but the composite nature of Silgranit allows it to be formed into just about any shape, from a very traditional double bowl sink like to funkier more modern shapes with different sized and shaped bowls.
2. One of the best things about Silgranit sinks is that the material is completely homogeneous – that means it's made of the same stuff in the same color all the way through, so even in the unlikely event that the super hard surface cracks or chips, the damage won't show. Where a porcelain sink can lose great big chunks and show the metal underneath, with a Silgranit sink there is no underneath to show, making the damage virtually invisible.
3. The fact that Silgranit sinks are made of the same stuff inside and out also means they won't fade in the sun – so you one get a beautiful dark, rich colored sink without having to worry what it'll look like several years down the road. And again unlike porcelain, the material is so resilient that one doesn't have to worry about damaging or pitting the finish with harsh household cleaners or acids. Silgranit is also heat resistant up to 536 degrees Fahrenheit, so it is safe to put dishes and pans right out of the oven into the sink – it won't warp, crack, melt, or damage the material.
4. Silgranit sinks clean up easily because the surface is completely non-porous and hygienic, and resists and even repels the gunk that would stain an ordinary sink. So all that needs to be done to clean it is simply rinse and wipe with a damp towel or sponge. Many of them also have lovely, innovative designs that help solve minor kitchen problems, like staggered bowl size for more convenient partitioning. For example, the Cascade design has a slightly raised portion that fits a custom Colander for rinsing utensils, fruit, or vegetables and drains in a pretty little cascade into the main part of the sink.
5. Many of the Silgranit sinks are actually designed to work with a full line of accessories. The Precis Multi Level is a great example, and is completely beautiful and functional all by itself – but can be paired with a Colander, Sink Grate, and Cutting Board that are sized to fit the sides, lip, and bottom of the sink perfectly to turn it into a fully functioning workstation. It's a great way to add useful counter space to the kitchen.
6. Silgranit sinks come in 22 shapes, each available in 7 colors, ranging from white to black and a range of warm and cool neutrals in between, from biscuit to truffle to anthracite. Most models are two-bowl varieties, but there are quite a few lovely single bowl sinks and bar sinks like this itty bitty adorable Rondo that provide great durability and utility outside the kitchen as well.
7. New owners report that the sinks can look a little plasticky right out of the box, but that it reverts to a beautiful stone look after just a few uses. As well, like with all sinks they need to be very carefully visually inspected for cracks or defects BEFORE installation – and make sure only to drill holes for the hardware in the marked perforated areas in order not to damage the sink. It is important to be careful with the installation itself – Silgranit sinks can be a little fragile, especially at the corners, during initial installation (though they hold up like champs once they're installed), so even with a relatively small sink it never hurts to have professional help.
HomeThangs.com is not only a home improvement superstore, it also provides expert design tips and a home improvement shopping guide, taking the ideas from professional interior designers, and offering tips to the consumers on how to pick the products to best suit their needs.