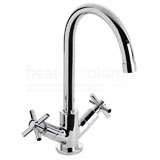 Not only do filters help the customer find what they are looking for, it helps our sales team too!
Wadebridge, Cornwall (PRWEB UK) 17 January 2013
The introduction of a filter-based system for kitchen taps has seen the popularity and conversion rates of HeatandPlumb.com rise significantly, paving the way to more sales and a better user experience. Compared to the same period last year, the amount of kitchen tap sales has risen 27%, with the average value of sale rising by 13.5%. But what prompted this change in approach from the already-successful retailer?
After taking over the website in early 2012, Pioneer Bathrooms has assembled a young team that aims to take the website to the next level. Chris Watts, manager of the e-commerce arm of Pioneer Bathrooms, gave us his thoughts on the evolution of the website, and how selling kitchen taps on the Internet has changed: "When we started out 8-9 years ago, the target market for heating and plumbing goods was not necessarily computer-savvy. Today, it's a very different story. Potential customers know how to find what they want - so having the data there to aid them is vital. The first month of testing has shown customers are now finding a wider range of taps than before we launched the new system."
"We took a look at our peers, identified their weaknesses, and found that 'information' as a whole is poor in our sector. Using our range of kitchen taps as a guinea-pig, we used focus groups to determine what the most significant variables were when looking for this type of product. The result of this investigation is our new-and-improved page showcasing over 300 kitchen taps."
"Our website has always been expanding, with more top-quality brands being added weekly. With more choice for the user, we had to find a simple way to show off every tap we sell without making them trawl through hundreds of pages. If I'm browsing the web for an item, and I cannot find it within a few clicks, I will leave. Our data suggests this is commonplace. Our dynamic filters make it easier for the customer to find everything within a specific set of criteria. For example, it's virtually impossible to find every two-handle, monobloc kitchen tap on many websites; you simply tick a couple of boxes on ours!"
Chris also mentioned that they were used to a surge in sales after Christmas, as many people finally had time to think about improving their homes after a busy festive period. However, thanks to data collection and analysis through Google Analytics, it was apparent that the introduction of filters for kitchen taps had increased sales of this group by more than a quarter. The data showed that whilst the amount of visitors to the page remained similar to previous years, the amount of customer conversions and the wider range of products being found were all down the the new filter-based way of shopping.
The company was keen to point out that while many customers had taken to this new way of shopping, completely changing the way a website works is not recommended. "We are doing A/B testing on various categories to see if they have a similar kind of success rate. We cannot stray too far from what made us successful in the first place."
HeatandPlumb.com is now home to some of the biggest brands of kitchen taps, including Deva, Franke, Rangemaster and Bristan. Mainly used by homeowners looking to improve their kitchen, the kitchen taps category is also a hit with the trade thanks to the competitive prices offered as standard.
The company is currently looking to change the website even more, with plenty of dynamic features in development that they hope will improve the experience for the user. HeatandPlumb.com utilises the purpose-built e-commerce system, Aval, and develops it in-house constantly. Their highly-regarded e-commerce team have been praised by many in the industry for their fresh approach to selling heating and plumbing goods online.