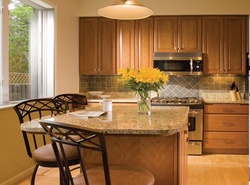 Aberdeen, SD (Vocus) July 28, 2010
Often homeowners start to feel that their kitchen is beginning to look rundown. The cabinets may work fine, but the finish is wearing away around the handles and the doors beneath the sink may have water damage. However, the question is: Is it necessary to get all new cabinets, or is there another option that can make them look great again?
Most kitchens experience normal wear and tear as they age. The oils in our skin rub off when we open the doors and sooner or later, it actually eats away at the finish. The same is true for water damage by the sink. It may not even be noticeable at first but over time, the wood can become discolored and warped. Home remodeling franchise, Kitchen Tune-Up, offers tips on services that will revitalize the kitchen, and each of them is much more affordable than buying new cabinets!

Kitchen Tune-Up's wood reconditioning "Tune-Up". In this process the wood cabinets are actually repaired and reconditioned so they will look nearly new and provide many more years of use before they need to be" Tuned-Up" again. This service usually starts below $1,000 and will make your kitchen look like it has gone back many years in time.
Cabinet recoloring is another option homeowners may want to consider. After the wood reconditioning Tune-Up is complete, homeowners can also change the color of their cabinets. Kitchen Tune-Up offers a wide variety of colors to choose from that allow homeowners to get the new look they want. In addition, Kitchen Tune-Up can add a high-end glazed look to cabinets after completing a Tune-Up.
If the damage from water is extensive or if homeowners want to have different looking cabinets than they currently have, the next service is redooring. The cabinet doors and drawers are replaced in the same color, or the cabinet boxes can be painted. Updating the door style will add new life to your kitchen in less than two days.
If you want to update even further, homeowners can choose Kitchen Tune-Up's refacing service. New doors, drawers, and a new real wood veneer for your cabinet boxes are added. The transformation is incredible and homeowners get to choose from the largest selection of styles and colors available.
To locate the nearest Kitchen Tune-Up for a free in-home consultation, visit kitchentuneup.com or call 800.333.6385. You can also try Kitchen Tune-Up's free online Design Tool at kitchentuneup.com. The Design Tool lets you try different cabinet species, colors, styles, glazes, knobs and pulls and even design your dream kitchen by choosing different appliances, countertops, backsplashes, flooring, faucets, lighting, and blinds.
About Kitchen Tune-Up –Kitchen Tune-Up specializes in home remodeling. They offer wood reconditioning "Tune-Ups", cabinet refacing and redooring, custom cabinetry and closet organization. Kitchen Tune-Up has been ranked Entrepreneur Magazine's #1 home remodeling franchise for 20 years and has more than 200 franchises in the United States and Canada. Learn more about franchise territories that are available nationwide and in Canada at kitchentuneup.com or ktufranchise.com.
###