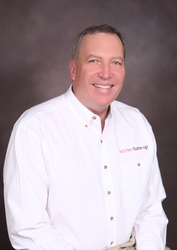 Aberdeen, SD (Vocus) September 8, 2010
In September, Richard Marks celebrates the two-year anniversary of owning the Columbus, Georgia area Kitchen Tune-Up franchise. Before owning a territory in Entrepreneur magazine's #1 rated national home remodeling franchise, Marks had a much different career. For many years, he ran a division for one of the largest credit card processors in the world. He was responsible for developing, selling and managing a high tech process management software system. The job required a significant amount of travel because he had the responsibility of overseeing development teams in three U.S. locations, the United Kingdom, India, and Central America. After many years of traveling and working in the financial world, Marks decided it was time for a change. "I had enough of the corporate world and was tired of battling bureaucracies to get things accomplished," said Marks. "You had to rely on others for support that had no interest in helping you reach your objectives."
After Marks left the corporate world, he decided he wanted to invest in a franchise. "I looked at numerous franchise opportunities and found that virtually all the businesses I looked at were overpriced for the value of the investment," explained Marks. After a lot of research he decided to shift his efforts to locate a franchise that met several criteria, "I wanted a business that didn't compete solely on price; one that has the potential of a repeat customer base; one with a modest start-up investment, and one with growth potential." After a lot of research, he found that Entrepreneur magazine's #1 rated national home remodeling franchise, Kitchen Tune-Up, best matched up with his criteria.
Owning his own business and working outside of the corporate world has been quite the change. "It is a substantially different experience owning and managing a small local business in a fairly mature industry to that of my previous job," said Marks. "The biggest difference is how I spend the time. Rather than being driven by corporate objectives and priorities, it's up to me to determine what they are."
His many positive customer comment cards show that Richard is right at home in his profession. "Richard and his team were very professional and added a personal touch. They were very helpful and provided many options and added suggestions when asked," said customer Darlene Burkett of Midland, GA.
After two years he is still happy with his career change and financial investment. "I would do it all over again," stated Marks. "Kitchen Tune-Up is a highly reputable franchise that provides good support in an industry that is unfortunately not known for reliability. I still have the same goal of expanding my business by opening several additional franchise territories."
Richard Marks can be reached for a FREE consultation at 706.332.0161 or to learn more visit kitchentuneup.com. You can also visit his beautiful showroom at 2501 Old Whittlesey Road, Suite D, Columbus, GA.
About Kitchen Tune-Up –Kitchen Tune-Up specializes in home remodeling. They offer wood reconditioning "Tune-Ups", cabinet refacing and redooring, custom cabinetry and closet organization. Kitchen Tune-Up has been ranked Entrepreneur Magazine's #1 home remodeling franchise for 20 years and has more than 200 franchises in the United States and Canada. Learn more about franchise territories that are available nationwide and in Canada at kitchentuneup.com or call 800.333.6385.
###