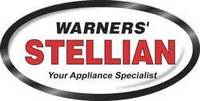 We are all grateful and humbled by this honor and recognition by members of our local business community
St. Paul, MN (PRWEB) November 17, 2010
Minnesota Business Magazine announced Warners' Stellian Appliances, a St. Paul based company specializing in home and kitchen appliances, as the winner of its 2010 Emerging Award during the Minnesota Family Business Awards ceremony held Thursday at IMS in Minneapolis.
The Minnesota Family Business Awards are dedicated to recognizing outstanding Minnesota-based family owned and managed businesses and promoting the considerable value family businesses bring to the state's economy and quality of life. Nearly 50 of Minnesota's premier family businesses applied for the recognition.
The Minnesota Family Business Awards selection committee evaluated applications based on areas of business success, family involvement and governance, community participation and succession planning. The Emerging Award recognizes a family business beginning the process of developing a solid foundation and infrastructure with the goal of becoming a legacy business that has thrived and transitioned through two or more generations of active family participation and governance.
The management team and staff at Warners' Stellian are extremely honored to be recognized as outstanding among the state's family businesses, which bring so much value to our economy and communities.
"We want to perpetuate the family values our father, Jim Warner, has taught us through his own life: humility, integrity, gratitude and compassion," said Jeff Warner, president. "Our dad's values have brought us success both as a family and as a business. Today, the third generation of Warners is continuing this tradition – about 30 of the more than 200 employees are family members," added Warner. "We are all grateful and humbled by this honor and recognition by members of our local business community," concluded Warner.
Gov. Tim Pawlenty recently declared October to be "Family Business Awareness Month." In the proclamation, he recognized family businesses as, "critical to the success of our state and national economy" and noted their ability to "enhance our communities by providing stable, trustworthy services."
Warners' Stellian operates seven retail appliance stores in Minnesota. Stores are located in Apple Valley, Edina, Maple Grove, St. Paul, Woodbury, Rochester, and the Appliance Outlet Store in Minneapolis.
For further information and media inquiries about Warners' Stellian Appliances, or any questions regarding products, promotions, or special events, contact Julie Warner or visit http://www.warnersstellian.com.
About Warners' Stellian
Warners' Stellian is a major home and kitchen appliance retailer based in St. Paul, MN, with six stores in the Twin Cities Metro Area, including St. Paul, Edina, Apple Valley, Maple Grove, Woodbury, and an Outlet Center in Minneapolis. Its newest and seventh location is in Rochester, MN. The company carries a wide selection of home and kitchen appliances, from entry-level to "dream kitchens" and prides itself on providing a high level of personalized service to its customers. Warners' Stellian also offers special discount programs for Builders, Remodelers and Designers.
Contact:
Julie A. Warner – Marketing
Warners' Stellian Company, Inc.
651-222-0011
http://www.warnersstellian.com
# # #