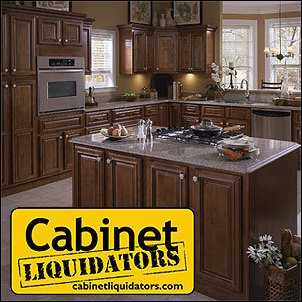 CabinetLiquidators.com's versatile cabinets feature all-plywood construction, with solid wood face frames and doors. No particleboard or engineered wood can be found in its cabinetry. With more than 50,000-plus cabinets in stock at its 100,000-plus sq. ft. factory in central Florida, CabinetLiquidators.com can deliver a consumer's dream kitchen whenever it's needed
North Palm Beach, FL (PRWEB) March 7, 2007
CabinetLiquidators.com is currently offering 10 percent off selected door styles. Visit CabinetLiquidators.com to purchase kitchen cabinets and bathroom vanity cabinets at factory direct prices, shipped directly to consumers nationwide. The company's ready-to-assemble cabinets are 100 percent wood and shipped 48 hours after payment verification.
CabinetLiquidators.com has more than 40 years of experience in the cabinet industry, so its team understands that remodeling a home is a major investment. The company's friendly staff can assist customers with their projects and make a dream kitchen a reality.
The company also provides a basic design service that includes a free quick quote estimate. CabinetLiquidators.com calculates this estimate using its 10-by-10 linear footage pricing. Customers need only fill out an Online Basic Design form, and CabinetLiquidators.com will get them started. If customers would like a detailed drawing and calculation of their kitchen, CabinetLiquidators.com offers a Deluxe Design package for $50, which is reimbursed with a purchase. The company's professional kitchen designers will work with consumers one-on-one to make sure kitchen cabinets are designed correctly based on measurements and ensure consumers are confident in their online purchase.
"CabinetLiquidators.com's versatile cabinets feature all-plywood construction, with solid wood face frames and doors. No particleboard or engineered wood can be found in its cabinetry. With more than 50,000-plus cabinets in stock at its 100,000-plus sq. ft. factory in central Florida, CabinetLiquidators.com can deliver a consumer's dream kitchen whenever it's needed" -- and without blowing the budget.
CabinetLiquidators.com offers detailed assembly instructions online and a cabinet installation service with ServiceMagic.com.
For additional information, contact CabinetLiquidators.com or visit http://www.cabinetliquidators.com. Products are in stock and ready to ship. CabinetLiquidators.com is a registered trademark of Cabinet Liquidators.
About CabinetLiquidators.com
CabinetLiquidators.com was created to meet the high demand of home owners everywhere who are looking to update and enhance their property. The company's goal is to make the online buying experience as simple and painless as possible. CabinetLiquidators.com has more than 40 years of experience in the kitchen cabinet industry. The company understands that remodeling a home is a major investment and a complex undertaking, so it aims to make buying kitchen cabinets hassle-free.
Contact Allan Wieland, Web Operation Manager
CabinetLiquidators.com
866-728-0649
http://www.cabinetliquidators.com
###