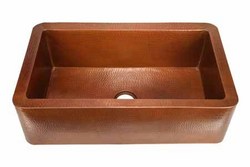 The copper sinks available on the website are elegantly designed; they're hand made, rugged and most importantly suit everyone's budget
Langley, WA (PRWEB) May 17, 2008
Copper Sinks Online, supplier of quality copper sinks launches a new line of innovatively designed hand hammered sinks for the kitchen, bath and bar. The newly launched copper sinks are designed by a team of talented artisans and available in a wide variety of sizes, styles and finishes. They are offered at wholesale prices with a complete guarantee of product satisfaction.
The gallery of newly launched items at Copper Sinks Online features a variety of items including Copper Farm Sinks, Copper Kitchen Sinks, Copper Bath Tubs and more. "The copper sinks available on the website are elegantly designed; they're hand made, rugged and most importantly suit everyone's budget," says Patrick Marvin, one of the many esteemed clients of the company. The company takes pride in offering the largest variety of copper sinks inventoried in their large US warehouse direct to their customers with no "middleman". This is a one stop shop that offers everything you need for installation including matching faucets and drains and with fast, free shipping.
"Several websites have been launched that deal in copper sinks, copper kitchen sinks, copper tubs etc., but very few of them offer the extensive variety with such competitive pricing. Copper Sinks Online is a name apart. They are attuned with the kitchen & bath industry and understand the varied needs of their customers. As you browse through the website, you will find a copper sinks photo gallery, copper kitchen sinks guide, copper bath tub information and much more," says Marvin.
The website gives detailed information on how to install copper sinks and offers valuable tips on what to look for when buying copper sinks and related items. Copper Sinks Online has surpassed its competitors in quality, inventory, customer service and has become the leader in artisan crafted sink products.
To learn more on Copper Sinks, Copper Farm Sinks, Copper Kitchen Sinks, visit http://www.coppersinksonline.com.
PO Box 1030
Langley, Washington 98260
United States
###