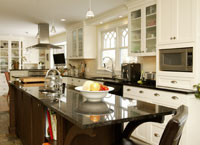 Granite Counter Tops: The Solution and the Transformation You Are Looking For...
Toronto, Ontario (PRWEB) August 18, 2012
Granite Transformations, Toronto's kitchen countertops expert is pleased to announce that they are sponsoring Canada's Baking and Sweets Show 2012. Canada's Baking and Sweets show is the first consumer show of its kind in North America and is dedicated to lovers of decadent, delicious desserts.
The show will take place September 28th – 30th, 2012 at the International Centre in Toronto. The show features a number of highlights including a demo kitchen stage, competition stage, amazing prizes and celebrity guest appearances by Duff Goldman, the DC Cupcake Girls, Anna Olson and SugarStars.
Granite Transformations is supplying a new kitchen or a refaced kitchen worth a retail value of $20, 000 to the Grand Prize winner. This new kitchen will include a design consultation as well as the installation of the design. The kitchen countertop options are endless for the lucky winner of this grand prize. What could be better than baking in a brand new kitchen?
Canada's Baking and Sweets Show Demo Kitchen Stage will teach consumers new decorating techniques, ingredients, products, unique recipes and how to use new technology and kitchen appliances that will enhance your baking experience.
Visitors will have the opportunity to meet a number of celebrity bakers. Chef Duff Goldman, star of Ace of Cakes will be appearing on Sunday September 30th at 12 noon. The DC Cupcake Girls are the stars of DC Cupcakes on TLC and will be appearing on Saturday September 29 at 12 noon. In addition to the chance to win a kitchen granite transformation, visitors will also see Canadian stars like Celebrity Chef Anna Olson, host of the Food Network Canada's show Bake with Anna Olson who will be appearing on Friday September 28, 2012 at 7pm. Finally, Food Network Canada's SugarStars are featured at the show and their new program will air Mondays at 10pm Eastern Standard Time on Food Network Canada.
Fans can watch the live drama unfold on Competition Stage for professional baking and home baking recipe competitions. The categories for the home baking recipe competition sound simply irresistible and include chocolate chip cookie, apple pie, lemon meringue pie, brownies, banana bread, chocolate cake, apple cinnamon muffin, carrot cake, shortbread and pumpkin cheesecake.
Want a chance to win a dream kitchen with cutting edge designs like beautiful glass mosaic countertops? Bakers can register for the home baking recipe competition until September 7, 2012. This competition is open to any amateur home baker, 18 years of age and older who is a Canadian resident. Contestants can enter one or more categories.
The professional baking competition is open to professional bakers who have pre-registered by September 7, 2012. The categories for the professional baking competition are impressive and include wedding cake, theme cake, lollicakes, macaroon, specialty bread, hand dipped truffles, best original pastry and cupcakes.
Looking for more information on recycled glass countertops, want to see the latest kitchen appliances or hoping to get some new baking tips? Then Canada's Baking and Sweets Show 2012 is the place to be.
Granite Transformations is pleased to sponsor the show and is looking forward to giving away a new kitchen to one lucky participant! Visit http://www.GraniteTransformations.ca today for more information about Canada's Baking and Sweets Show 2012.