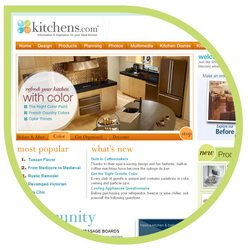 Our goal was to add multimedia and interactivity, update the site more frequently, and enhance the user experience
Chicago, IL (PRWEB) July 8, 2008
With warmer colors, more photography, bigger type, and streamlined navigation, the new fresh, bright design of Kitchens.com matches the friendly, straightforward tone of the content.
In addition to an updated, easy-to-use homepage, the new Kitchens.com features a multimedia channel with videos and slideshows; revamped photo galleries; enhanced search capabilities; more product information, and new sections on kitchen organization, kitchen layouts, and kitchens for different lifestyles.
"Our goal was to add multimedia and interactivity, update the site more frequently, and enhance the user experience," says Kitchens.com editor in chief Kimberly Sweet. "One of our core strengths has always been the ease with which visitors can find content directly relevant to their interests."
Kitchens.com's creative director, Dan Gilhooly, describes the site's new look--and the company's new branding--as "contemporary, engaging and intuitive." He adds: "It is critical that the site look friendly and approachable while maintaining our reputation as a trusted source of reliable information."
This redesign is just the first phase of a yearlong site makeover that will include the addition of more blogs and videos, user comments, a kitchen store, and other interactive applications.
About Kitchens.com: Kitchens.com is a comprehensive resource for homeowners seeking information and inspiration for their ideal kitchen. This independent online publication features photography, videos, kitchen design trends and ideas, new product updates, product buying guides, and handy how-to information on planning and budgeting--all in a user-friendly format that puts knowledge at consumers' fingertips.
Founded in 1996, Kitchens.com is based in Chicago.
###