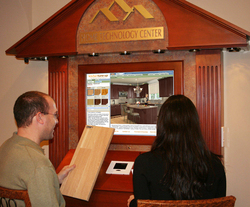 Lakewood, NJ (PRWEB) May 1, 2009
In a move to cater to today's web-savvy home renovator, kitchen remodeling giant Kitchen Tune-Up is incorporating a new design tool this month. Maytex Global's "Selection Viewer" allows users to choose items for every single part of the kitchen, and lets them see how all their selections would look and coordinate together in a photo-realistic room setting. Cabinets, counters, flooring, backsplashes, appliances, faucets, knobs, and nearly any part of the kitchen will be able to be changed and previewed in detail.
Kitchen Tune-Up specializes in refacing and reconditioning "tune-ups" and also offers new custom cabinetry. The new tool will allow consumers to play with various looks and materials at the front end of the process. If they don't yet know what's available to them, the company believes this is an easy, no-pressure way to investigate their options.
By using their patent-pending system which cleverly renders pictures of actual merchandise, Maytex Global has opened a new and innovative method of cross-advertising. Budget Blinds, with over 900 franchises in the US, will be featuring their window treatments on Kitchen Tune-Up's website through the design tool, showcasing today's bestselling and latest blinds. With nearly 300 Kitchen Tune-Up locations, the exposure is nationwide and benefits everyone- especially the consumer, who gets a full kitchen design experience.
Aaron Munk, founder of Maytex Global, explains, "Though the CAD systems used today are a great tool for laying out a kitchen, we saw a void in their lack of realism, as CAD can't be used as an advertising tool. No one is looking at a CAD granite counter or window treatment and saying, 'I got to get that!' What better way for sellers to get a customer's focused attention than to allow them to design their home with actual images of their merchandise? You're not getting closer to personalized and customized on-line selling than that."
Kitchen Tune-Up's Marketing Director, Beth Schmitz, agrees. "One look at a room with the Selection Viewer's 'Enlarge' button, and the benefits from using high-resolution pictures becomes obvious. Not only will our customers enter the process emotionally involved with the design look they've created at home, but the tool should attract new customers to our site as well. Our franchise locations will also have the ability to choose different kitchen scenes customized for each client, and print or email it to them for review. We are excited about where this can go."
Adds Munk, "Retailers and manufacturers see the tool as giving them a competitive edge by allowing their customers to get beyond the fear of 'how will it look?'. The tool engages customers in the design process, pushes the items the sellers want to showcase, and helps cross-sell the various types of kitchen items they offer. Especially in today's economy, we see users taking a lot of advantage of a tool that allows them to make their décor decisions without engaging the services of a costly interior decorator."
Manufacturers are taking note. Seeing the value in the various targeted marketing techniques, they are placing their products in Maytex Global's database so that users on their vendor site, and applicable private-labeled sites will design with their merchandise.
Web-based, free, and high-tech, Maytex Global is focused on current trends, with plans in July to dedicate separate selection palettes to green and economical merchandise. With additional rooms, layouts, products and features in the pipeline, they are in position to take the future of high-tech advertising to a whole new level.
The Kitchen Tune-Up/Budget Blinds alliance proves that they are well on the way.
For licensing and other information, or to feature your products on Kitchen Tune-Up's or other private labeled sites, contact Maytex Global at (800) SEE-0155. To learn more, visit MaytexGlobal.com.
###