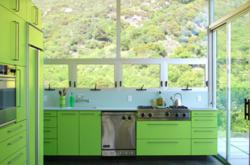 The Bold and Beautiful Kitchens slide show features 17 innovative kitchens from around the globe
Chicago, IL (PRWEB) May 04, 2011
There's nothing wrong with practical kitchen design that is cost-effective and offers resale value. But for anyone trying to add spice to their space, Kitchens.com presents a slide show full of kitchens that will challenge the imagination.
The Bold and Beautiful Kitchens slide show features 17 innovative kitchens from around the globe, from a farmhouse with red cabinets in Northern California to a remote-controlled kitchen in Northern Ireland with an aquarium built into the backsplash. There's even a steampunk concept kitchen created by Kitchens.com.
"Our site is full of great looking kitchens, but for this slide show, we wanted design ideas that are bigger and bolder than the norm," says Kitchens.com senior editor Mark Rumble. "So we found kitchens with brilliant backsplashes, colorful cabinets, artistic design and other extraordinary features."
The 17 photos feature many different kitchen styles—old world, modern, rustic—and an array of design ideas for applying color and texture to a room. The story behind each kitchen sheds some light on the designers' and homeowners' style choices.
About Kitchens.com
Kitchens.com (http://www.kitchens.com) is a comprehensive resource for homeowners seeking information and inspiration for their ideal kitchen. This independent online publication features photography, design trends and ideas, new product updates, product buying guides, and handy how-to information on planning and budgeting—all in a user-friendly format that puts knowledge at consumers' fingertips.
Founded in 1996, Kitchens.com is based in Chicago.
###