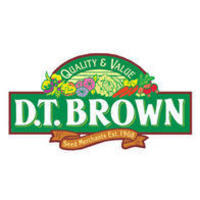 (PRWeb UK) October 13, 2010
Leading mail order kitchen garden supplier D. T. Brown's newly published Fruit and Vegetables Catalogue 2011 is a 'must' for all those who are keen to grow their own tasty crops. Part of the fun of gardening is sitting in an armchair during the dark evenings deciding what to grow next season. But gardeners have no need to wait until 2011 before they start growing, as there is much which can be sown and planted this autumn to ensure a fine harvest of tasty fruit and vegetables next summer.
Seed of broad beans and hardy varieties of peas can be autumn-sown to give an extra-early picking of succulent young vegetables next summer. Broad Bean Super Aquadulce is the classic variety to sow at this time of year, as it will withstand the worst of the winter weather to give an early crop of well-filled pods on compact plants. Kelvedon Marvel is one of the favourite autumn-sowing peas, but D. T. Brown's variety Excellenz is an improvement on this great old favourite. Expect plenty of well-filled 4in long pods, filled with superbly flavoured peas, on dwarf growing plants.
Garlic is now hugely popular with D. T. Brown customers and it is a very easy-to-grow vegetable. The very best results are obtained from autumn planting, as this allows the bulbs a long growing season. It is also important to grow from bulbs produced in the UK, as these will give greatly superior results to those produced in warmer climates. All D. T. Brown garlic is British-grown. New from the company for this season are Garlics Picardy Wight, Tuscany Wight and Aquila Wight.
D. T. Brown also offers a fine range of strawberries. These are supplied as bare-root 'runners' for autumn planting. New gardeners may be surprised to learn that strawberries are totally hardy, sailing through the hardest winters, and are also very easy to grow and manage. The golden rule is to protect the ripening fruit from birds and other thieves. New to D. T. Brown is the huge-fruited, French-bred Strawberry Combaille. It is also big on flavour, yielding its sweet and juicy berries from late May. onwards.
Autumn is also a great time to plant bare-root fruit trees to allow them to become settled in before the onset of the winter weather. It also allows them to benefit from autumn rains. Orders paced with D. T. Brown before the end of October will be despatched during November. Later orders will be sent out in March 2011. D. T. Brown fruit trees are offered on dwarfing and semi-dwarfing rootstocks, so mature trees remain a manageable size suitable for most modern gardens. Several are even suitable for growing in containers, so any sized garden can be turned into a mini-orchard.
To request a free copy of the D. T. Brown Fruit and Vegetables Catalogue 2011, write to D. T. Brown, Western Avenue, Matrix Park, Chorley, Lancashire PR7 7NB, telephone 0845 3710532, fax 0845 3710534
D. T. Brown is Britain's leading mail order supplier to gardeners of vegetable seeds and kitchen garden requirements. It offers a wide range of the finest new varieties and firm favourites, with a reputation for introducing many new types of fruit and vegetables. Established more than a century ago, it offers a reliable and friendly service to all gardeners.
Full Company Name & Address: D. T. Brown, Western Avenue, Matrix Park, Chorley, Lancashire PR7 7NB
PR contact Name: Colin Hambidge
PR Contact Phone Number: 01638 750788
PR Contact email: colin(dot)hambidge(at)dtbrownseeds(dot)co(dot)uk
###