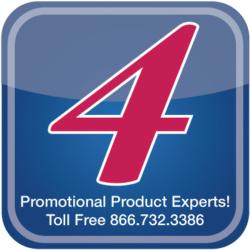 Essex, CT (PRWEB) July 11, 2012
According to research from the Promotional Products Advertising Institute the kitchen is where 91 percent of people surveyed admit to storing promotional products. This may not come as a surprise but it is an important piece of data for marketers working in the promotional products industry. The promotional products team at 4AllPromos, in Essex, Connecticut, constantly acquires simple, useful and quality products that customers can use in the kitchen regularly.
The same customers who admitted to storing promotional products in the kitchen also admitted to spending between 3 to 5 hours in the kitchen on a daily basis. It is a well-known fact that the kitchen is often the heart of a home and families and guest often congregate in the kitchen to eat and chat. From a marketing standpoint kitchen related items are a genius way to help brand a business.
4AllPromos carries everything from magnets to aprons to jar openers to measuring cups. All the items from 4AllPromos can be custom imprinted with both a logo and text representing a brand, website, business, event or other special occasion.
The best thing about kitchen and home-related promotional products is that these kinds of items don't have to be expensive. Refrigerator magnets start as low as twenty-cents depending on the quantity of the order. Think of how many times a customer could open and close the fridge on a daily basis and see a logo every time. Pill organizers, matches, fly swatters and coasters are all also very affordable items that one can find in a kitchen drawer or cabinet.
For those in the cooking or food business kitchen items such as measuring cups, potholders or pizza cutters make great giveaways to new or loyal customers. 4AllPromos carries a large assortment of items for the head chef of the house. Help customers peel, slice, scoop, and serve up delicious, home-cooked food with a logo on the side.
Don't forget about the everyday products such as sports bottles, coffee mugs, pens, sticky notes and chips clips that can also be found in the kitchen. There are hundreds of promotional products that can be found in the kitchen. Think about customers might be hungry for and think outside the box when selling your brand with promotional products.
For more on promotional products that are perfect for the kitchen visit http://www.4allpromos.com 4AllPromos is a leading online marketer of custom imprinted promotional products such as tote bags, sports bottles, apparel, sticky notes, giveaways and much more.