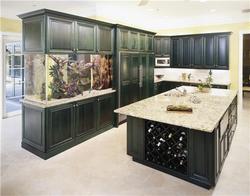 Boca Raton, FL (PRWEB) December 10, 2009
Ciara Cabinet Designs, a leader in kitchen cabinets and design in South Florida, announced the latest in kitchen cabinet trends for 2010. The company continues to see an increased demand for white kitchens, quartz counter tops, the use of mosaic tiles and much more. The expert kitchen designers and general contractors have come together to explain what customers are seeking in kitchen renovation and design ideas.
White Kitchen Designs
What some may have considered staid and cold in the past is now considered fresh and sleek. The modern white kitchen has grown up, and now exudes an elegant style. A vase of crisp white flowers or bowl of bright green apples emphasizes the clean lines and vibe. Shaker-style cabinets mixed with glass doors is very new and bright. Durable cream or Grey-toned marble, granite or quartz is typically used with a light-colored backsplash for a subtle blend - all contrasted by a rich dark walnut floor.
Quartz Counter Tops Is Becoming Very Trendy
Move over, granite and marble, and make room for your cousin, quartz. Quartz is catching on quickly. The difference between granite and quartz comes down to maintenance. Granite requires the owner to apply a sealer and if the slab is a lighter color, you may need to maintain it yearly or it will stain. The beauty of quartz is you can get into lighter colors and not have to worry about it. There is absolutely no porosity to it, there's no maintenance. So you don't ever have to seal it.
Mosaic Tile Has Various Uses
Much like the craze for cultured stone, ceramic or glass mosaic tile adds texture and a punch of color to walls, bathrooms, kitchens and pools. With an endless variety of colors, textures and sizes, this feature can inject a spark into any room. Because tiles are impenetrable, and not easily breached by liquids, they are ideal for places that get wet often and are easy to clean with a wet cloth.
"Kitchen cabinets have taken on so many interesting designs and uses our South Florida customers have been challenging us to create the maximum amount of efficiency while keeping a sleek look," said Israel Morag President of Ciara Cabinet Designs who is based in Boca Raton. "Kitchens serve more than just a place to cook, it's a place where people socialize and experts kitchen designers help show clients how to capture warmth and versatility."
About Ciara Cabinet Designs:
Ciara Cabinet Designs, Inc. is a dream come true for individuals wanting to remodel their homes and gather kitchen remodeling ideas in Boca Raton, Florida. The company has some of the finest crafted custom cabinets available in many wood species, styles, colors, and finishes. Fully customized kitchens and baths are our specialty. For more information or to schedule your free in-home consultation, visit us at http://www.CiaraCabinetDesigns.com.
###