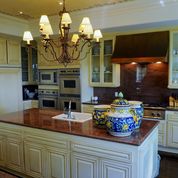 As invited guests in our customers' homes, our mission is to ensure that they always come first by providing the highest level of customer satisfaction." - LA BUILD
Los Angeles, California (PRWEB) July 16, 2012
There are many different options when it comes to home remodeling in Los Angeles. It all depends on the needs of the homeowner, as well as what type of home renovation they are looking for. LA Build Corp can custom design a unique home remodeling plan for the entire home, or only where there are needed like kitchen remodeling, bathroom remodeling, and additions.
When it comes to kitchen remodeling the first thing that comes to mind is the cabinets. They have the greatest visual effect and largest financial impact on kitchen remodeling projects. With the wide variety of options and designs it's very easy to get distracted and pulled away from what the original plan was.
Kitchen Cabinet Style:
When deciding on what style kitchen cabinets would best suit a new kitchen remodel, there are many options. For country style kitchens, many homeowners tend to go with either unpainted or lightly stained wood, which gives a natural look and feel to the kitchen. Hand painted cabinets are also popular with the country style. Solid colors like different shades of white or black are the best choices in traditional kitchens. An alternative to wood is metal, and metal cabinets are usually installed in modern style kitchens. They give a fresh crisp look and feel to any kitchen remodeling in Los Angeles. Wood cabinets with glass panes in front are also very popular, these cabinets make a perfect addition to any traditional kitchen, and they offer a nice, relaxed look. The cost of cabinets would vary based upon the wood, finish, and door style. Also the shape of the cabinets and their layout, special features and storage option also play a big role in the final coast. Last but not least is the installation. This will depend on a variety of factors, such as whether the layout of the existing cabinets are the same as the new ones chosen, the removal of the old cabinets and pre-installation prep work.
LA Build Corp's Ami says: "It is very important to meet with clients first and walk through their kitchens and see everything up-close first, go over the many different options in material and designs, before we are able to give them an estimate. LA Build Corp designers and project managers work closely with clients to stay within their budget and price range."
LA Build Corp is Southern California's first choice when it comes to home remodeling in Los Angeles area. Their 20 years of experience makes them experts in the area of home remodeling and room additions, and their skilled team of designers work personally with their clients to ensure that their remodeling project not only meets the clients vision, but also to make sure that everyone of their home remodeling in Los Angeles is unique to the homeowner's individual style. Their current summer specials include FREE granite countertops with kitchen remodeling in Los Angeles area and a FREE vanity with a new bathroom renovation in Los Angeles area. 80 % of LA Build Corp's business comes from repeat customers and referrals, and their reputation speaks for itself. Their professional project managers work one on one with homeowners to come up with a budget that is affordable, and to stay within that budget. They also work with only top of the line and energy efficient products, which allows homeowners to save money on their energy bills as well as contributing to the environment in a positive way. Remodeling a home can increase its value, which is very helpful for homeowners that are looking to sell in today's real estate market. Remodeling can also create an entirely new atmosphere for homeowners that are looking for something refreshed and different. LA Build Corp is fully equipped to assist with all types of home remodeling projects, no matter how big or small.
Here is one of the most popular kitchen and bathroom ideas among Los Angeles home re-modelers:

Country Style Kitchens bring the look and feel of the countryside to any home, and they add a special touch of comfort and subtle style. Hardwood flooring and a hand painted kitchen table will add a touch of home to any kitchen, and hand painted cabinets in white or yellow add a fresh country look. Adding a few special finishing touches like floral seat cushions or gingham curtains will complete this lovely country look.
In Southern California, many homeowners are looking for a peaceful and Zen atmosphere when it comes to bathroom remodeling in Los Angeles. LA Build Corp can custom design a bathroom that offers peace and tranquility after a hard day's work. A large sunken bathtub in deferent shades of white coupled with waterfall taps makes the perfect center area for the room, and adding a skylight will bring in natural light for an extra sense of comfort and relaxation. There are many ways to go when it comes to a spa style bathroom, and LA Build Corp is here to assist their customers with their specific vision to create a space that offers tranquility and comfort.
To starting a remodeling project for kitchen, bathroom, or the entire home, LA Build is the right home remodeling company to get the job done in a professional and efficient manner, and customize a design plan to meet each clients unique vision. Contact LA Build Corp at 877- 628-5292 to learn more about their current summer specials: FREE granite countertop with a full kitchen remodel and a FREE vanity with every new bathroom remodel.
http://labuildcorp.com/index.html
877- 628-5292
http://tusana.net/