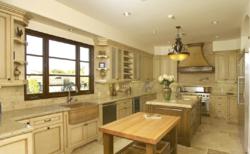 At LA Build Corp, we're proud of the relationships we've built with out clients through our years of experience as general contractors in Los Angeles, and helping homeowners in the greater Los Angeles realize their dream of a new kitchen.
Los Angeles, California (PRWEB) July 26, 2012
Kitchen remodeling dilemma?! It is no secret that renovation companies rank high in the number of consumer complaints received by the Better Business Bureau; leaving homeowners asking questions like:
Who to trust?
Where to start?
What are my options?
"As a homeowner myself, I believe knowledge is power even when it comes to home remodeling. I encourage my home remodeling clients to do their homework and shop around, interview at least three home remodeling contractors and do not get into a contract unless you have all your questions answered." Says Ami, president of LA Build Corp a Construction Company Based in Los Angeles with an A rating from Better Business Bureau.
According to an estimate by "Today", the average cost of a kitchen remodeling project is anywhere from $15,000 to $20,000. Obviously costs are often affected by factors like region and city area, the size and style of a home and the depth of the kitchen remodeling project. With all this said why is kitchen remodeling one of the most popular home improvement projects?
The kitchen is always the heart of the home and family life, most family activities happen around the kitchen island or table. From overseeing the kids homework while preparing a meal, to family meetings to make important decisions over dinner or a cup of tea. Beyond that, a stylish and well planed kitchen is a major factor in determining the home's re-sale value. Expert home remodeling contractors of LA Build Corp say that in their over two decades of experience, new flooring, freshened-up cabinets, new and smart appliances, and an updated backsplash are the best ways to invest in a home, these methods never fail improve a home value and impress any potential home buyer.
What to consider before getting started with a kitchen remodeling;

Choosing colors according to the location of the kitchen; with a south, east or west facing kitchen, choosing a darker color is not a problem, but if remodeling a north facing kitchen always keep it light to make the kitchen look larger.
DIY or hiring a kitchen remodeling contractor? Although the DIY approach can be very cost efficient if done right, it can easily turn to what seems like a never-ending nightmare. Hiring a kitchen remodeling contractor is a wiser choice when it comes to detail and technique sensitive projects like kitchen remodeling, except for homeowners that already own all the professional tools and the needed expertise. (read the top 10 DIY mistakes)
How big should a kitchen be? When starting a kitchen remodeling or addition, it is important to think long term. Is this an investment home or a place to raise a family? For an investment home it's wise to stay with a more basic yet practical plan and the main goal is to add the home's re-sale value. Otherwise make sure the kitchen remodeling contractor is aware of the family needs and the homeowner's expectations. In either case a smart layout to maximize kitchen storage is essential.
How to plan smart?
Figuring out a practical budget and making a wish list is the best place to start the kitchen remodeling plan. After finishing a wish list, separate the must haves the "would like" to haves. Review the list with the kitchen remodeling contractor, an expert contractor would know where to splurge or cut down to meet a set budget and get the most for every dollar spent.
When setting a budget, it's important to keep in mind that the cost of labor can be around 20% to 30% of the total kitchen remodeling cost. Planning ahead and choosing a skilled contractor can easily turn an investment in kitchen remodeling to a ROI (return on investment) of 80-90%, putting kitchen remodeling cost amongst one of the highest returning investment on home renovations.
It is also best to find a construction company or home remodeling contractor that does not out source any part of the work.
LA Build Corp has a group of professional kitchen remodeling contractors working closely with home designers and experienced home remodeling project managers, which ensures staying on schedule and budget, this also helps to avoid miscommunications that would only create stress and extra coast to the homeowner.
The best tool available to homeowners to choose the right home remodeling contractor in Los Angeles is through the "BBB", Better Business Bureau. BBB rates businesses based on many different factors, LA Build Corp has received an A rating for this two main reasons: 1-No complaints filed with BBB, 2-BBB has sufficient background information on this business.
LA Build Corp offers Quality and Dependability on Every Home Remodeling Project.
To get more information on kitchen remodeling designs, and to get a free consultation and estimate, Call 877- 628-5292.
Remember to ask about the Free Granite Countertop offer with kitchen remodeling projects.
Call 877- 628-5292
or visit http://labuildcorp.com/