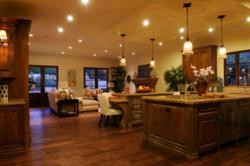 At LA Build Corp. we specialize in custom Kitchen remodeling in Los Angeles and the surrounding areas. We offer you our years of experience and free in house consultation and evaluation. 877-628-5292
Los Angeles, California (PRWEB) August 30, 2012
The value of a home can increase dramatically in direct reflect of a well-planed kitchen Remodeling. Creative and appealing renovations will not only help to attract more potential buyers, it will effectively sell a house in a shorter period of time. Regardless of the size and budget set aside for kitchen remodeling, the worth of a fairly inexpensive and well-planned renovated kitchen is priceless.
There are many things to consider when starting a kitchen remodeling project.
Here are some Guidelines provided by LA Build Corp's Kitchen Remodeling Contractors:
Setting a Realistic Kitchen Remodeling Budget;
Homeowners should start with a careful examination of their finances to come up with a realistic figure that they can afford to spend on a kitchen remodeling project. Then find an answer to this key question: are they going to stay in the home for five years or less? Then the kitchen renovation should be viewed as an investment on their home. If they are going to be there for a longer period of time, it's essential to keep in mind their family needs and to consider what's going to give them the most satisfaction through the years to come.
Choosing the right layout;
Choosing the layout of the room is crucial in making a beautiful, practical and feasible kitchen design. Through years of experience, regardless of the size of the kitchen, any expert in home remodeling will know how to utilize the space to achieve the maximum storage and prep area. The basic "Island" or "kitchen triangle" is a tried and trendy design that not only adds to storage space, also allows for optimum flow and performance in a kitchen layout. But it's important to keep the set budget in mind when thinking of the kitchen layout, as changing the existing layout may require changes to the pluming and ventilation system which can add much more to the cost of the kitchen remodeling.
Picking out the Kitchen Cabinets;
Choosing the kitchen cabinets can be the most challenging part of kitchen remodeling and improvements. They project the greatest visual impact to the space, and as far as their cost they have the largest impact on the budget. There are limitless options of kitchen cabinet styles and quality to bring any kitchen to life. When it comes to choosing the right cabinets, it's important to pick from the ones that allows the best storage and organizing option.
Choosing Materials That Suit Everyday Lifestyles;
When using the most up-to-date appliances, materials and styles that fit in the right budget, it adds to the overall appeal of any kitchen design. Newer appliances are more energy efficient while having smarter performance as well.
Expert home remodeling contractors say there isn't much difference in reliability between high-end appliances and the less luxurious ones. They may not have top-chef worthy bells and whistles on less expensive ovens, refrigerators and dishwashers, but they are well-made, practical appliances and come with warranties.
Top quality materials such as, copper, granite, stainless steel and hardwood floors are timeless and an elegant investment in kitchen remodeling; whereas choosing the more durable materials might be more suitable for a growing family.
These are some of the obvious factors that go into renovating a well-planned out kitchen. There are many other important and technical details like the plumbing, the electrical and wiring work, if there are permits needed or what to do with the old tiles and cabinets…. But there is no reason to worry about forgetting these facts or knowing the exact questions to ask.
Homeowners only need to focus on choosing the right kitchen remodeling contractor in Los Angeles like the experts at LA Build Corp. As Ami, the master home and kitchen remodeling contractor of LA Build Corp says:
"We don't just wait for our clients to ask questions to find out the best options for them. As expert general contractors we take pride in our work. We ask many questions to understand each individual homeowner's needs and visions to deliver the best finished product we possibly can. We have worked with many families to come up with the most feasible kitchen renovation plans, focusing on what is their best option, while keeping in mind the possible changes in the future. It's our job to advise our clients as their kitchen remodeling consultants first, then put on our general contractor hats on when it's time to execute a masterfully planed kitchen renovation design".
Contact LA Build Corp for a free estimate and consultation on your new kitchen remodeling project in Los Angeles and surrounding areas to learn more about their extended summer special, free granite countertop with every full kitchen remodeling project. (a value of $1,200. Call for more information)
http://labuildcorp.com/
877-628-5292