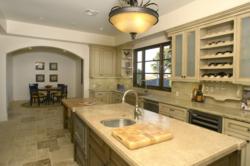 At LA Build Corp. we specialize in custom Kitchen remodeling in Los Angeles and the surrounding areas. We offer you our years of experience and free in house consultation and evaluation. 877-628-5292
Los Angeles, California (PRWEB) September 13, 2012
KitchenRemodeling can be a daunting task for many homeowners—it's hard to pick a design that is stylish, practical, homely and easy on the pocket. Throw in the term "eco-friendly" into the list of requirements and many mainstream buyers used to balk at the thought of spending a sizeable fortune on their kitchens.
Luckily, with so many advances in eco-friendly technology, the seemingly impossible kitchen remodeling dream is now becoming a reality for many homeowners across America. "I had heard about going green over the years and had gone though many magazines and newspapers I knew there were ways that I could do it and make it look great, make it feel great and allow me to sleep at night!", says Trish Snyder, a homeowner who recently got her kitchen remodeled to make it greener.
-Benefits of Green Kitchens
Eco friendly kitchens can prove to be a worthy investment in the long run. By focusing on practical aspects such as minimizing energy consumption this type of kitchen remodeling can save homeowners a considerable fortune in energy bills. These kitchens also give due attention to aesthetics by maximizing the flow of natural light as well as using materials that are both, eco-friendly and pleasant to look at. And if all this is managed on a budget, any homeowner would be happily cooking way in the kitchen for years to come!
-Going Eco-Friendly? Where to start?
Countertops: Choosing the right countertops is one of the most important aspects of kitchen remodeling. Ideally, kitchen countertops should be hygienic and stain resistant. For homeowners willing to splurge, opting for recycled glass countertops which offer a wide variety of colors and designs may be a good move. On a budget? Recycled paper or bamboo can be excellent options, especially because they blend in well with almost any type of color scheme.
Floors: Flooring materials should be durable and easy to clean. For homeowners with young children, linoleum floors are highly recommended because of their non-toxicity and antibacterial properties. Recycled tile floors are not only affordable but are available in several materials as well, including ceramics, glass, stone and even terracotta. The wide range of materials gives homeowners the freedom to design kitchen floors according to personal preferences.
Appliances: Economizing homeowners should hold on to smaller appliances such as coffee makers and toasters. The real energy criminals are the refrigerator, oven and the dishwasher. When choosing appliances, the Energy Star emblem is a trusted sign. The Energy Star rating certifies that the appliance is better for the environment as compared to other models on the market. Appliances with an Energy Star rating consume up to 80% less energy than regular appliances.
Remodeling the kitchen, especially in an eco-friendly way, is an extensive task. A DIY kitchen is a risky enterprise which is why the best course of action would be to contact professional kitchen remodeling contractors. They will not only provide relevant guidance but will also envision a kitchen design that fits their client's requirements and budget.
LA Build Corp is a general contractor in Los Angeles which specializes in construction and remodeling services. LA Build Corp is a full service Home Remodeling and Construction Company with over 20 years of experience. They offer variety of service from new construction and room addition, to home remodeling and repairs.
To find out about their granite countertop special Call (877)-628-5292
Or visit http://labuildcorp.com/
http://tusana.net/