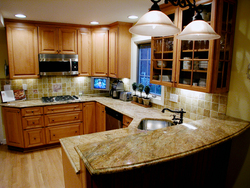 Arlington, VA (PRWEB) March 20, 2009
Looking to give your kitchen or bath some panache with a remodel? Kitchen and Bath Factory of Arlington, VA has earned its 14th consecutive Top Dealer Award for showroom kitchen designs and bath remodels with Pennsylvania-Based cabinet manufacturer K&H Cabinet Company, Inc. For nearly 30 years, Kitchen and Bath Factory has served Washington, D.C. and the surrounding metropolitan area with its award winning brand of custom cabinet installation, along with full kitchen and bath remodels. This award, along with those that precede it, recognizes the superior working relationship that Kitchen and Bath Factory has established not only with K&H Cabinet Company, Inc., but also with their own clients.
Bob Kay, President of Kitchen and Bath Factory, comments, "My company's success over the past 29 years has been built on timeliness, competence and quality. We follow a precise schedule from laying out the kitchen cabinet designs to installation. Moreover, we rely on experienced installers and consistently provide our clients with quality cabinetry and remodels."
Kitchen and Bath Factory has had an extensive working relationship with K&H Cabinet Company, Inc., which is located in the heart of Pennsylvania's Amish-Dutch country. "Since K&H Cabinet Company only produces cabinetry for five kitchens per week, and handles all deliveries personally, the cabinets always arrive on-time directly to the jobsite. This mitigates any risk of damage to the cabinetry during delivery and ensures that we stay on schedule with the remodel," says Mr. Kay.
A significant factor contributing to Kitchen and Bath Factory's continual success over the years has been their commitment to following a set planning process and installation schedule for both showroom kitchen designs and bath remodels. Their planning process consists of six simple steps:
1. Initial Showroom Visit
2. No-Fee Design Consultation
3. No-Fee Contractor Visit
4. Follow-Up Showroom Appointment
5. Follow-Up Contractor Visit
6. Plan Finalization
In the end, clients are not required to pay any initial fees and receive 3 hours of design consultation time to finalize their kitchen cabinet designs, or bathroom remodel plans. For more information, or to pursue a remodel with Kitchen and Bath Factory, visit them at KBFactory.com.
About Kitchen and Bath Factory:
Since 1976, Bob Kay has created showroom kitchen designs and designed bath remodels with the same attention to detail as his first project. Established in 1980, Kitchen and Bath Factory is a family owned business that has grown from handling 50 to more than 200 projects in a year. With extensive computer aided design and remodeling experience, as well as a focus on the client experience, Mr. Kay is able to provide professional design services without discounting personal attention whether clients are interested in kitchen cabinet designs, bathroom remodels, or custom wardrobe systems. Kitchen and Bath Factory has been featured in Washingtonian Magazine on numerous occasions.
###