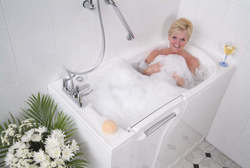 The Diamond Elite Walk In Tub is great for people who have mobility problems or are reaching an age where getting in and out of the tub or shower can be difficult
Oak Park, MI (PRWEB) July 9, 2008
After two years in development, The Kitchen Bath Store (http://www.thekitchenbathstore.com ) has just released the newest design in walk-in tubs: Diamond Elite Walkin Tubs. This premier walk-in tub has a low 1-inch-high entry and is 3-times thicker and stronger than any other walk in bath tub. It comes with all the fixtures and is priced lower then walkin tubs of lower qualities. With 6 years experience in the walk-in bathtub industry, the Kitchen Bath Store has a unique understanding of what makes a walk-in tub perfect for the elderly, those in therapy or physically challenged.
"The Diamond Elite Walk In Tub is great for people who have mobility problems or are reaching an age where getting in and out of the tub or shower can be difficult," says Bud Olejniczak of The Kitchen Bath Store. "This walk-in tub is safe, affordable and provides great relief for aches and pains related to aging."
Because the Diamond Elite walk-in bathtub is thicker and stronger, it will not flex or wobble like other walk-in tubs. Also, when taking a shower, the extra thick walls are warranted not to graze, spider crack, chip, or delaminate after years of service. In addition, the Diamond Elite walk-in bath tub sets a new standard with its hydro jet massage system and inline heater. The precedent setting six lumbar whirl jets gives users the ultimate hydro massage therapy.
Installation and the ability to perform maintenance are two additional important features that set the Diamond Elite walkin tubs apart from other walk in tubs available. Since this newly designed tub does not have a steel cradle frame, it is much easier to install. Service is made easy because the whole front panel comes off for easy access to the plumbing and motor. That's different from tubs currently on the market, which only have two small panels, making it almost impossible to reach any plumbing problem without taking the tub out completely.
As technology advances, handicapped friendly shower equipment is continuously being engineered to provide improved access to showers and baths. In the case of walk-in tubs, the walk-in design allows those who are unable to lift themselves over the wall of the tub to enter a bathtub with ease. By providing handles and helpful stabilizing rails, walk-in baths help decrease incidences of injury for those who usually do not have an easy time bathing. The newly engineered Diamond Elite walk-in bathtub makes for an extremely pleasant bathing experience. It is equipped with an easy to use entry door and efficiently designed faucet head and handles. So, loved ones with physical difficulties will no longer dread bathing, rather, they will look forward to using their new Diamond Elite walk-in tub. For more, please visit the Kitchen Bath Store Online.
About The Kitchen Bath Store
The Kitchen Bath Store is the premier internet supplier of walk-in tubs, whirlpool tubs, stainless, granite, marble and porcelain sinks, glass and marble vessel bowls, faucets, and vanities. The Kitchen Bath Store makes luxury affordable.
Contact:
Bud Olejniczak
Marblecast Kitchens & Baths, Inc.
14831 West 11 Mile Road
Oak Park, Mi 48237
Phone: (248) 398-0600
Fax: (248) 398-5822
###