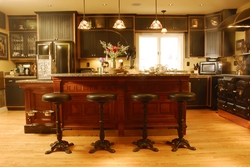 Aberdeen, SD (Vocus) July 6, 2010
Everyone's heard the horror stories of the remodel that went wrong, very wrong; the contractor skips town with the deposit, the product doesn't arrive and you wait months for a workable kitchen, bathroom, etc. The kitchen is left so dirty and in such disarray that it takes days to clean it up and feel like you can cook in it again. It doesn't have to be that way! There are honest, hard working contractors out there who are good at what they do and will make your kitchen or bath look spectacular for a reasonable price.
So, what should you look out for when entrusting your beloved home to someone you don't know? Here are five common mistakes you can avoid if you know about them in advance. We'll also give you some tips on things you can do to ensure your remodeling experience is the best it can be.
Don't expect your project to run perfectly. Sometimes problems do occur. If you get upset about a few days slippage, you will drive yourself insane. Remember that you will have this kitchen for a good number of years, so a few days here or there are insignificant to the overall result. The important thing is that your contractor is reacting to it, getting it handled and gets everything back on track as soon as possible. For example, your contractor pulls the old cabinets off and find out there has been a leak that has rotted the flooring and joists under the floor, so everything stops until another company can come in and fix it…. if everyone is busy, it could be a week or more. You need to be prepared for the possibility that this type of problem can happen.
Don't expect a working kitchen until the project's done, so make arrangements for that. Cabinet refacing does not shut down your kitchen, but new countertops in addition to refacing will. You will probably be without running water and a sink for a few days. New kitchens are shut down on day one, as soon as the old cabinets are torn out. Depending on the countertop chosen, you're typically looking at 2-4 weeks before you have a fully functional kitchen again.
Don't start your remodel before you've chosen your appliances. Make sure you have the specs in the contractors' hands prior to cabinets being ordered. This will result in a better fit for the appliance into the cabinets…especially wall ovens, built in microwaves, cook tops, and large fridges.
Don't pay for the entire project until the entire project is completed. Most projects will require you to make a significant down payment. This is normal, because the contractor has to place orders for product that is designed specifically for your kitchen. If you decided to withdraw from the project, he'd be stuck holding the bag. However, it is good policy to always leave a portion outstanding until the kitchen is finished. 10% is pretty typical. If you have a problem giving your contractor a down payment, then you don't trust him, and you should not be using him.
Don't fall for the "big discount if you sign now" routine. Some remodeling companies offer huge discounts if you sign with them on the spot. If they offer an extremely large discount, it just means their price is too high to begin with. Remember, though, it is more cost effective for the company to be able to wrap things up on the first call, so a modest discount to save a second trip is reasonable, just use common sense. High quality companies won't use high-pressure tactics to get you to sign. Their product, service and references speak for themselves.
Make sure you check out your contractor thoroughly in advance. Call their references, check Angie's List and call the Better Business Bureau. Now remember, from time to time, there are such things as "difficult" or "unreasonable" clients. If a contractor has a bad comment or complaint, consider it against the length of time they've been in business and ask them to explain any issues you found. It is expected that on occasion, good contractors may have bad customers. If you see a pattern of complaints, however, you know you shouldn't use that contractor.
You should be comfortable and "click" with the contractor you've chosen for your remodel. Make sure they have a good amount of experience, positive references and valid liability insurance if something does go wrong.
It doesn't have to be a nightmare; you can get the kitchen of your dreams! To get your kitchen remodel started, call 1.800.333.6385 to find a Kitchen Tune-Up franchise near you, or visit http://www.kitchentuneup.com.
About Kitchen Tune-Up –Kitchen Tune-Up specializes in home remodeling. They offer wood reconditioning "Tune-Ups", cabinet refacing and redooring, custom cabinetry and closet organization. Kitchen Tune-Up has been ranked Entrepreneur Magazine's #1 home remodeling franchise for 20 years and has more than 200 franchises in the United States and Canada. Learn more about franchise territories that are available nationwide and in Canada at http://www.kitchentuneup.com or http://www.ktufranchise.com .
###