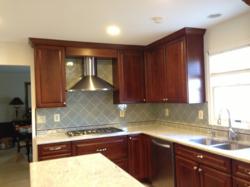 I am literally in tears. The crew found not one but both of my wedding rings!
Silver Spring, MD (PRWEB) April 09, 2013
Diamonds may be a girl's best friend but, Luis & Mario, two of Signature Kitchens Additions & Baths kitchen remodeling craftsmen might be just as good. At the pre-construction meeting, held between kitchen designer, homeowner and Signature's craftsmen, the home owner Alex Chen had a request. "Over the last twenty years my wife Jade has lost not one but two diamond wedding bands, while in the kitchen. We really think they are somewhere here in the kitchen. It would be wonderful if you could find them."
The following week the project began with demolition. Luis and Mario were meticulous, clearly on the hunt for Jade's rings. Out went the appliances and then the wall cabinets without any luck. Slowly each base cabinet was removed and examined. "The last thing we wanted to do was throw the rings out during the demo" Mario said. Later that morning the kitchen designer Joe Gelletich received a text from Jade "I am literally in tears. The crew found not one but both of my wedding rings!" "Mario & Luis are brothers and one of our most complimented crews. I think they were happier than the home owners. They loved being the heroes," said Gary Case owner of Signature Kitchens Additions & Baths. Gary added "If my wife lost her wedding ring in the kitchen it would have been taken apart shortly thereafter! I think Jade or Alex must be very patient."
Not only did Alex & Jade get their wedding rings back, they also got a beautiful new kitchen remodel. The kitchen design included Medallion Designer Cabinetry Cherry Brookhill doors in a Rumberry finish, Amtico Spacia floor tiles, new recessed lights, Kashmir White granite, and Glazzio glass back splash as well as new Kohler plumbing fixtures.
About Signature Kitchens Additions & Baths
Signature Kitchens Additions & Baths is a design build remodeling contractor located in Rockville, MD 20850. Signature has a 4,000 square foot interactive kitchen & bath showroom & 5 experienced kitchen & bath designers ready to apply their creativity to your design remodeling aspirations. A three step process is applied to all design work to achieve an optimal design that fits within a customer's budget. Signature represents a wide range of semi-custom & custom cabinetry as well as tile, flooring, lighting, counter tops and appliances. The majority of their work is performed by their in house craftsmen whose average tenure with the firm is in excess of 8 years. Signature also works with independent Architects, Remodeling Contractors and Designers. For more information visit the web site at http://www.signaturekab.net