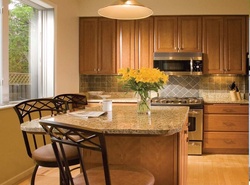 Aberdeen, SD (Vocus) July 2, 2010
Kitchen Tune-Up is a remodeling company that specializes in many affordable solutions to update kitchens without clients having to empty their bank account. Whether the change is to the appearance or convenience of the space, it doesn't have to cost a lot to make a big difference. Here are 10 quick and easy ways to update a kitchen for under $250.
1.) New Knobs and Pulls: Designer hardware trends are constantly changing. New hardware keeps your kitchen looking and feeling like new.
2.) New Cabinet Door Hinges: Cabinet doors that won't stay shut, hang crooked or have dingy looking hinges are unattractive. New hinges are available in many different finishes to make your cabinetry look and feel like new again.
3.) New Drawer Slides: Opening the drawers without waking up the children or hurting yourself would be nice, wouldn't it? Many different styles of slides are available to fit your budget and your current cabinet configuration.
4.) Replace Trim On Cabinet Bases: The shoe molding and toe-kick cover around the bottom of your cabinets takes a lot of abuse. Replacing dinged-up trim makes a big difference in the kitchen's appearance.
5.) New Crown Molding On Top of Cabinets: Crown molding draws the eye up and makes a kitchen look bigger. Crown that matches the decorative style of the room is an essential finishing touch that people will really notice.
6.) Add Under-Cabinet Lighting: Whether you need task lighting or just better ambience, halogen or xenon under-cabinet lights are outstanding alternatives to fluorescents.
7.) Roll-Out Trays For Pots & Pans: Tired of getting on your hands and knees to find the pan you're looking for? Add roll-out access to put the right tool at your fingertips, even if you are standing up.
8.) Tip-Out Trays Under Your Sink: Those little false panels under your sink can become wonderful hiding places for unattractive cleaning items and other sink-area clutter.
9.) Roll-Out Waste Basket and Recycling Center: Store trash where it belongs - out of sight. Easy roll-out access makes removing garbage from the kitchen simple. Convenient roll-out bins make sorting recyclables a breeze.
10.) Custom Drawer Dividers & Accessories: Organize spices, silverware, cooking utensils, knives or just about anything else in your drawers.
To locate the nearest Kitchen Tune-Up for a free in-home consultation, visit kitchentuneup.com or call 1.800.333.6385.
About Kitchen Tune-Up –Kitchen Tune-Up specializes in home remodeling. They offer wood reconditioning "Tune-Ups", cabinet refacing and redooring, custom cabinetry and closet organization. Kitchen Tune-Up has been ranked Entrepreneur Magazine's #1 home remodeling franchise for 20 years and has more than 200 franchises in the United States and Canada. Learn about franchise territories that are available nationwide and in Canada at kitchentuneup.com or ktufranchise.com .
###