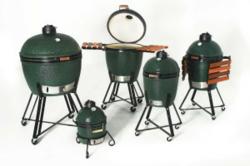 Unlike the somewhat fragile clay Kamado cookers that founder Ed Fisher first imported over 30 years ago, today's Big Green Eggs are made from high-tech ceramics
Berkeley, CA (Vocus/PRWEB) May 10, 2011
General Appliance of Berkeley, an East Bay appliance and cabinetry expert, is carrying the Big Green Egg, a cooker that can be used in every occasion as a smoker, grill or even an oven. Styled after ceramic Kamado cookers originating in Asia, the Big Green Egg draws air in through the base and lid, which ignites a lump of charcoal quickly without the need of a chemical liquid fire starter and is ready for cooking in 10 minutes, unlike many charcoal barbeques.
The Big Green Egg is built for heavy-duty use and cannot be harmed or crack from extreme temperature, rain or snow. Inside heat burns off grease and spatters just like a self-cleaning oven. It also comes with a lifetime warranty.
"Unlike the somewhat fragile clay Kamado cookers that founder Ed Fisher first imported over 30 years ago, today's Big Green Eggs are made from high-tech ceramics," said Ife Collins, Director of Marketing at General Appliance of Berkeley.
The Big Green Egg is fueled by natural lump charcoal, which is consumed sparingly. One 20 pound bag can last for more than a month, making the Big Green Egg cost-effective and eco-friendly. Vents can be easily closed after cooking to save the unused charcoal.
For more information on the Big Green Egg, or any of General Appliance of Berkeley's other products or services please call them at (510) 984-3719 visit their website at http://www.generalapplianceofberkeley.com, or stop by at 2524 Shattuck Ave. in Berkeley.
About General Appliance of Berkeley
General Appliance of Berkeley is Bay Area cabinet and appliance expert that has served that San Francisco Bay Area for 40 years. Their kitchen appliance professionals and cabinet designers have been at their current location for more than 10 years. Having a knowledgeable staff on kitchen appliances and a talented team of Bay Area cabinet designers under one roof makes kitchen remodel and cabinet design projects convenient for. Their mission is to create an experience which turns customers into long term clients.
###