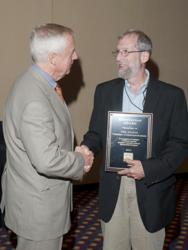 At a time when design firms are in desperate need of leads and showroom traffic the Kitchen & Bath Channel comes through
Chapel Hill, NC (PRWEB) October 28, 2011
The Kitchen & Bath Channel is proud to announce that Co-Founder and Partner Philip D. Zaleon has been awarded the 2011 Innovation Award by the SEN Design Group at their semi-annual conference.
The SEN Design Group, the kitchen and bath industry's first buying group, presents the award annually to the member or vendor who has made a uniquely positive contribution to the group, or the industry as a whole, through innovation.
The award was presented for the Kitchen & Bath Channel's smartphone app. Leveraging the geo-location capabilities and a directory of over 15,000 kitchen and bath industry professionals, the app is designed to help consumers locate a local professional. The consumer also has the opportunity to view professional profiles including, videos, images and website without leaving the smartphone. Hyperlinks to automatically place phone calls, send emails and get step-by-step driving directions via Google™ Maps are also available for a number of the professionals.
Ken Peterson, CKD, President of the SEN Design Group said, "At a time when design firms are in desperate need of leads and showroom traffic, Phil Zaleon came through for them with the Kitchen & Bath Channel."
"I was surprised by the award, and quite honored," said Mr. Zaleon. "The new economy, coupled with technological advances makes it apparent that traditional marketing techniques need a boost. As a marketer for the kitchen & bath industry for over a dozen years, I went looking for a strategy that would allow the industry to easily and cost effectively take control of the latest marketing technologies – and The Kitchen & Bath Channel was born!"
The App is available for iPhone (iPad), Android and BlackBerry platforms:
Android Marketplace
iTunes
BlackBerry App World
The Kitchen & Bath Channel is a joint venture between 36-year veteran of the kitchen and bath industry, Max Isley, CMKBD of Hampton Kitchens (Raleigh, NC), and Z promotion & design (Chapel Hill, NC) founder and president, Philip D. Zaleon.
The Kitchen & Bath Channel gives the kitchen & bath professional access to the latest marketing tools and technology with ease and affordability, while providing homeowners with a buying experience that includes research, education and social interactions with professionals, as well as other homeowners.
###