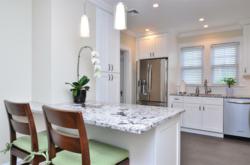 You can always expect superior customer service, rock bottom pricing, and great quality when shopping online with Kitchen Cabinet Kings. Stated Kitchen Cabinet Kings CEO Anthony Saladino
New York, NY (PRWEB) January 15, 2013
Kitchen Cabinet Kings, the leading online distributor of kitchen and bathroom cabinets nationwide, is pleased to announce their 2013 Kick Off Cabinet Super Sale . This sale will begin on Monday 01/14/13 and expire on Thursday 01/31/13 at midnight. For these few weeks, Kitchen Cabinet Kings will be offering deep discounts on their entire inventory including assembled kitchen cabinets, RTA cabinets, bathroom cabinetry, stainless steel sinks, range hoods, and more.
It's a new year, the holidays are over, and now is the perfect time to start a bathroom or kitchen remodeling project. Kitchen Cabinet Kings provides high quality all plywood construction stock cabinets, which are inexpensive enough to fit inside even the smallest remodeling budget. Typically customers can expect to receive discounts of 20-50% off local home center pricing. Kitchen Cabinet Kings has developed the most user friendly process to buy kitchen cabinet cabinets online. Simply select a door style, add cabinets/accessories to the shopping cart, and check-out right online. All cabinetry is in stock and arrives to location in just 1-2 weeks.
"We're excited to launch our first sale of 2013, and we look forward to providing our quality cabinetry to even more homeowners this year. Stated Kitchen Cabinet Kings CEO Anthony Saladino. "You can always expect superior customer service, rock bottom pricing, and great quality when shopping online with Kitchen Cabinet Kings. We pledge to continue to go above and beyond your expectations and provide our high quality cabinetry at wholesale pricing."
Kitchen Cabinet Kings is offering a 13% discount promotion on top of their everyday low pricing. Simply enter the discount code 2013SAVE13 upon check-out to take advantage of this offer. This promotion is valid from Monday 01/14/2013 through Thursday 01/31/13 at midnight.
For even more savings, shipping is free for all orders over $ 3,000
Kitchen Cabinet Kings - Cabinets Fit For Royaly, But Affordable for All!
Find Kitchen Cabinet Kings at http://www.kitchencabinetkings.com. Additionally, Kitchen Cabinet Kings can be located on integrated marketing platforms including Facebook, Twitter, Google+ and Pinterest.
About Kitchen Cabinet Kings:
Established in 2010, Kitchen Cabinet Kings is the industry's leading online supplier of both assembled and ready to assemble cabinets for your kitchen and bathroom, offering discount cabinet pricing and the highest quality stock cabinets on the market. Kitchen Cabinet Kings ships their cabinetry nationwide in just 7-14 days and was designed to benefit both homeowners in need inexpensive cabinets, and commercial buyers in need of wholesale cabinets.