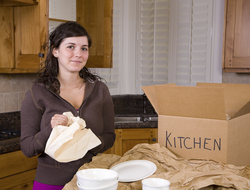 Chicago, IL (PRWEB) July 31, 2010
After 25 years of service in the home furnishings industry, Condo Complements has launched a brand new division, College Complements. The new site is aimed at college students to help make their move a little easier. The website (http://www.CollegeComplements.com) showcases four different packages ranging from the most basic Dorm Package to more extensive packages (Package 101-103). Just in time for the college move-in season, customers can now order online and can ship packages direct to their college or university.
Originally, Suzanne Weenink (Founder), helped new homeowners stock their condominium/apartment kitchens. With the success in the home industry, Suzanne created a package that was affordable for parents sending their children to college.
All kitchen starter kits include the most essential kitchen tools needed for comfortable living whether in a dorm or first apartment. The College Kitchen Packages are hand selected to include durable, quality appliances, flatware, cookware, and utensils. The website also accommodates customers that are looking to customize their order with bedding options.
Many customers have found that the packages also work well as gifts beyond college. In fact, almost half of the orders have been generated from customers that are not in college and are either moving into their first home or apartment and just simply do not have the time to shop for all the kitchen essentials.
For more information visit http://www.CollegeComplements.com or search: "College Complements" on Facebook.
About College Complements
College Complements, a division of Condo Complements, specializes in all-in-one college kitchen packages. The company is headquartered in Fort Walton Beach, Florida and has helped make moving into new condominium/apartment easier for the past 25 years. Packages include all the kitchen essentials that college students need for their first year of college and beyond.
# # #